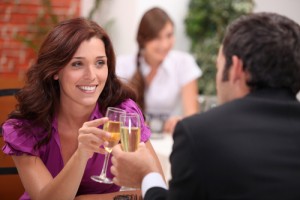 What's the top physical characteristic that men and women judge one another on when considering if someone is a worthy potential date? Not their profession. Not their personality. You guessed it – their teeth. If your love life is lackluster, it might be time to take a look in the mirror and rate your smile. Good teeth are a must-have when it comes to dating and romance.
It may be hard to believe that what's behind someone's smile could have such a big impact on love, but think about it – who wants to kiss someone with stained, broken-down teeth? The Match.com survey uncovered that 71 percent of women and 58 percent of men consider a potential match's teeth more important than their hair or clothes.
Your teeth figure even more prominently in how attractive someone believes you to be if you're dating online where – let's face it – your photos are the main element of your online dating profile. If you find ways to hide your broken-down smile in your online dating photos, eventually you will meet that other person in the flesh – and if you want there to be a second date, your appearance better live up to your posted photos. It's easy to edit a picture to flatter you or hide any flaws, but bad teeth are impossible to camouflage in real life.
Fix Your Smile to Find Love
Your smile is such an important feature and a critical part of your presence, enabling you to express yourself without words. If you aren't confident about your smile, or you try to hide it behind your hands or by refusing to smile or laugh too often, your demeanor will take a hit and your date won't get a sense of who you truly are. Or, even worse, they might think you're grumpy, sad, or emotionless. A bad smile makes a bad hair day seem like nothing. But the good news is that a less-than-perfect smile is absolutely fixable.
You may just need a small edit to your smile, like brighter teeth, and a one-hour in-office professional teeth whitening session can make that happen. Maybe your smile makeover needs to be a little more intensive – but even porcelain veneers or Cerinate Lumineers don't require more than a few visits to the dentist's chair. And the changes these procedures make to your smile are absolute.
Making a good first impression online is one thing, but meeting in person is another important step in your relationship – and this is when the other person is checking to make sure what you've claimed online matches up with who's in front of them. If you've been hiding your smile in your photos and suddenly reveal its inadequacy up close, you've already committed your first crime in the relationship, and the journey may go no further. If you can't be honest about your smile, then the other person can easily wonder what else you may be hiding.
Renew Yourself with a New Smile
We all want to believe that love is about more than just looks, but everyone knows that the physical attraction must be there, too. Having a gorgeous smile certainly doesn't hurt. If you want to really impress a potential match, a straight, white, beautiful smile makeover can make you look healthier, happier, younger, wealthier, and more successful. You can spend plenty of time in the gym or spruce up your wardrobe, but getting a smile makeover is instantly transformative. Invest in yourself and invest in a more successful love life by saying yes to cosmetic dentistry. Contact Dr. Michael J. Wei at Manhattan Cosmetic Dentist to schedule your consultation for your smile makeover.