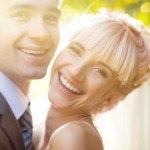 An American Express survey revealed that four million people expected to get engaged on Valentine's Day last year. Another 14 million planned on getting engaged within the year. And that means plenty of wedding bells will be ringing in 2013. Is your smile ready for the big day?
Plan for the Wedding, the Marriage, and a New Smile
Clearly, you are loved just the way you are, or your beloved wouldn't have proposed (or accepted, as the case may be). So any smile makeover you pursue should be done for your own well-being and happiness. Amid meetings with caterers, bridal consultants, jewelers, photographers, and more, give your smile its due as well and make an appointment with a Midtown Manhattan cosmetic dentist.
Think about what the wedding day will bring – lots of meeting and greeting guests. Are you going to feel self-conscious about smiling over and over, or will you be confident that your grin is good enough? Will you delightedly pose for yet another picture with a family member, friend, or in-law, or will you groan that yet another camera is being poked into your face?
Camera-shy tendencies aside, the fact of the matter is that your smile is going to be front and center all day long. The last thing you need to worry about is whether or not you're doing a good enough job of hiding damaged, missing, or crooked teeth.
Wedding Day Smile Solutions
Whatever it is about your smile that's making you uncomfortable or self-conscious, there is a cosmetic dentistry solution to fix it:
Missing teeth: One or more missing teeth can certainly put a kink in your smile. Dental implants are a permanent, natural-looking solution that stay put in your gums without adhesives. You can even switch out your uncomfortable or unreliable dentures for dental implants.
Dull or stained teeth: Teeth whitening is one of the quickest and simplest solutions to refresh your smile. If you're happy with the shape of your teeth but less than thrilled with their yellowed appearance, teeth whitening can be done in-office in less than an hour. So even if your wedding is just days away, this last-minute solution can get you through those wedding day photos with a gleaming grin.
Chipped or crooked teeth: Wishing for a Hollywood-style, glamorous, perfect smile for your wedding day? Porcelain veneers or Cerinate lumineers can transform your smile into that stunning, straight, white grin that you've always wanted. Have a little extra time before your wedding day? Consider shaping up with Invisalign braces – a subtle way to straighten your smile.
Your Smile's Starring Role
Whether your wedding will be large or small, hometown or destination, a wedding in any shape or form means plenty of smiling. There is no escaping that you and your partner will be the stars of this momentous occasion. And that means your smile has a lead role as well. An imperfect smile could certainly prevent you from fully enjoying this special day.
Before you go on a diet, hit the gym, or fret about hair and makeup, take a look in the mirror at your teeth and gums. Are they in tip-top shape? Do you want them to be captured on film as they are or could you do with a smile that's brighter, better, and whiter?
Make your appointment Midtown Manhattan cosmetic dentist Dr. Michael J. Wei to discuss your smile makeover options. Whether you've only got a few weeks until your wedding day, or several months, there are cosmetic dentistry solutions that can make your smile brighter and beautiful for the moment you say, "I do."