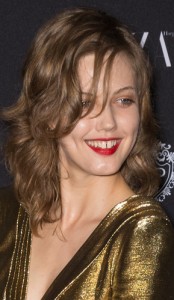 What you consider your biggest smile flaw, some people consider their best asset. Gap teeth are a hot commodity for today's celebrities. Models (Lara Stone, Lindsey Wixson, Georgia May Jagger, Abby Lee Kershaw, Vanessa Paradis) with gap teeth are in high demand. And of course there are actors (Laurence Fishburne, Andy Samberg), actresses (Lauren Hutton, Anna Paquin, Uzo Aduba), hosts (David Letterman, Michael Strahan) and musicians (Madonna, Elton John, Seal) who have long rocked their gaps. Whether you are embracing what you were given or are seeking to make a change, there are cosmetic dentistry solutions to fit your needs.
Love Your Tooth Gap?
If you are proud of the gap between your front teeth, or the gaps between all of your teeth, then bravo! Smile big and often and enjoy that amazing confidence. You are one of the lucky ones. Just remember that it's still important to take good care of your teeth.
A gap can easily be misconstrued as a sign of someone who doesn't care enough about their teeth to take care of an obvious problem. But if you love your gap, then at least make sure it looks perfectly flawed. Invest in professional teeth whitening, so that when you do show off the smile you love, it's gleaming, white, and bright.
Continue to keep your bi-annual preventive care visits to your Manhattan cosmetic dentist so that you can have plaque and tartar scraped from your teeth that you're unable to clean off with tooth brushing and flossing alone. And don't think that just because you have sizable gaps between your teeth that flossing is unnecessary. Cleaning between all of your teeth is still important, even if they don't fit snugly together.
7 male celebrities who owe their smiles to cosmetic dentistry >>
Hate Your Tooth Gap?
For the patients who are anything but enamored with the gap or gaps between their teeth, the solutions for eliminating this issue are many. The first course of action is to determine if orthodontics could give you the smile you want. Invisalign makes it possible to push your teeth together without drawing attention to yourself, which, if you have a gapped smile already, is a method you no doubt find appealing.
But orthodontics take dedication and months to complete. If you're seeking a faster solution, then it's time to look into cosmetic dentistry options that can give you a new smile in two visits to your dentist or fewer. Porcelain veneers are a popular choice because they cloak a variety of sins at one time – not only can veneers eliminate gaps, they can cover up tooth stains, chips, cracks, and misalignment. Lumineers are a slightly less-invasive option that is very similar to veneers, using contact-lens-thin pieces of porcelain that are bonded to your teeth to even out the length, size, and shape of your teeth while piecing a fantastic gap-free smile together.
Causes and cosmetic dentistry treatments for gapped teeth >>
Your success does not have to be impacted by the condition of your teeth – just look at gap-toothed Condoleeza Rice, and all the celebs mentioned above. They've made names for themselves, gaps or no gaps, and you can too. But how you look does matter, whether you're having your picture taken by the paparazzi all the time or not. Make sure your smile is in top condition so that you're proud of the smile you have, professionally, socially, and personally. Visit Manhattan cosmetic dentist Dr. Michael J. Wei to learn more about the smile makeover options available for your grin.