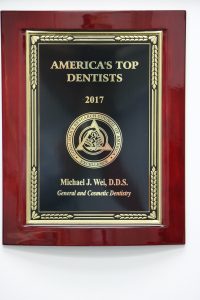 Manhattan cosmetic dentist Dr. Michael J. Wei has been named America's Top Dentist for 2017. This award is bestowed upon dentists who consistently provide exceptional dentistry services and treatment to each of their patients. The honor is awarded by the Consumers' Research Council of America and marks the 13th year in a row that Dr. Wei has been named Top Dentist.
Dr. Wei's clinical expertise as a general dentist and restorative dentist, as well as his artistry as a cosmetic dentist in New York City, set him apart in the dental profession. He is sought after in Manhattan, well-known for providing top-quality dentistry. Video testimonials from satisfied patients are evidence of Dr. Wei's ability to transform lives through smile makeovers.
"I am committed to providing excellence and to improving the health of my patients without any compromise. I want the best because my patients deserve the best," says Dr. Wei. He delivers dentistry in a comfortable environment using innovative techniques and customized dental solutions. Smile makeovers are not one size fits all, and Dr. Wei is conscious of developing and delivering the most appropriate treatments to each patient individually based on their oral health, budget, and goals.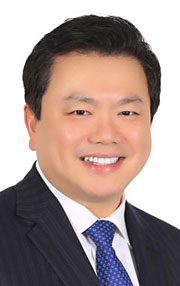 The prestigious Top Dentist award recognizes Dr. Wei for the meticulous, tailor-made dentistry that he delivers daily. He is especially known in Manhattan for cosmetic dentistry and restorative dentistry treatments like:
While some patients wholeheartedly embrace their dental visits and the smile makeover opportunities available to them, others are tentative about sitting in the dentist's chair. Whether you have anxiety about visiting the dentist or are embarrassed about the condition of your oral health, Dr. Wei is an experienced dental professional – he has seen it all and found solutions for every patient, no matter how severe their oral health problems. This is yet another reason why Dr. Wei is considered America's Top Dentist.
Dr. Wei is a member of the American Academy of Cosmetic Dentistry, the American Dental Association, the New York State Dental Association, and the New York County Dental Society. He has been in private dental practice since 2002, settling in his Midtown Manhattan dental office in 2007. A dedicated learner, Dr. Wei pursues advanced dental training and continuing education at every opportunity. He has completed training at prestigious cosmetic dental institutes like The Rosenthal Institute for Aesthetic Dentistry in New York and the Las Vegas Institute.
The Consumers' Research Council of America (CRCA) evaluates and compiles lists of the nation's top professionals from various industries using a point-value system that awards points for education, years in practice, and affiliations with professional associations.
If you're ready to visit America's Top Dentist in Midtown Manhattan, it's time to make an appointment with cosmetic dentist Dr. Michael J. Wei.