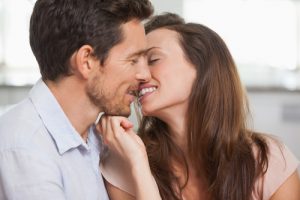 Women who are interested in health kiss their husbands 11 percent more than women who are not interested in health, according to a recent kissing survey conducted by the online dating site eHarmony. Presumably, these women are also focused on their oral health because, it's safe to say, both men and women with exceptional smiles and clean teeth are far more kissable than those who don't pay much attention to the health of their teeth and gums. These women are probably sporting fine smiles that make them far more kissable. Do you have the same kind of kissing luck in your romantic life?
Is your smile ready for love? 5 reasons you need a smile makeover >>
Open Up to Pucker Up
eHarmony reports that couples who met online kiss more (73.26 percent) than couples who met offline (58.66 percent), at least according to the women surveyed. Does that mean online daters have better teeth than offline daters? Unlikely. In fact, quite often online daters hide their teeth in profile photos so that they don't have to reveal that their teeth are less than perfect.
Maybe people who meet online are just so delighted to have finally met the one after an exhaustive search that they can't help but kiss as often as possible. Or maybe they're focused on looking as attractive and appealing as possible in their online profile that they have taken the time to get the smile makeover that will change their love life.
Sure, your best match should be attracted to you for more than your appearance, but looks – especially your teeth, the focal point of your face – do play a role when it comes to love. Plus, good oral health means better overall health and wellness. Win-win.
For the ladies: Attract the love of your life with a smile makeover >>
Reasons You Aren't Kissable
Everyone deserves love, but it's hard for others to desire you when your teeth are a major turnoff. Here are just some of the reasons that you might not be all that kissable:
Stained teeth. Whether discoloration on your teeth is from too many dark foods and drinks, smoking, antibiotics, or pure genetics, there are solutions. If the stains are on the surface, they can usually be eliminated with a professional teeth whitening treatment. If the stains are deep within your teeth, a bigger cosmetic dentistry solution will be necessary, like porcelain veneers or lumineers.
Bad breath. Halitosis can be caused by many things, from medications to dry mouth. Consult with your Midtown Manhattan dentist to resolve the issue. Isn't it far less embarrassing to admit your problem to your dentist once and get a solution than turn off every potential love match with noxious breath?
Gum disease. Taking good care of your oral health can certainly help keep gum disease at bay. Brushing and flossing daily, and visiting your New York City dentist for dental exams and teeth cleanings every six months help ward off periodontal disease. If you are starting to develop this problem, having an ongoing relationship with your dentist will ensure that any signs of gingivitis are noticed and addressed before they have a chance to get any worse. You don't want gum disease whether you're kissing anyone or not – worst case scenario leads to loose teeth and teeth that fall out, requiring restorative dentistry.
Do the bachelors on "The Bachelorette" all have smile makeovers? >>
Pow, Right in the Kisser
Smile makeovers don't have to be involved, invasive, or time-consuming. In fact, for many people, one small repair or upgrade is enough to transform their smile into an amazing attribute. If you're stressing about whether your smile and teeth are good enough, lovable enough, kissable enough, make an appointment with Midtown Manhattan cosmetic dentist Dr. Michael J. Wei. Contact us today to schedule your consultation.
Oh, and New Mexico, Wyoming, Utah, West Virginia, and Vermont have the highest rates of kissing, says eHarmony. Get to smooching New York City!