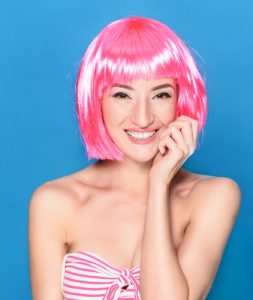 New York Fashion Week is over, but now it's time to satisfy appetites for the finer things. Consumers want the trendy clothes, shocking shoes, and finest accessories. However, there is one big style secret designers can't help you with: If your smile doesn't complement your attire, no one will notice the designer you're wearing – they will only see your less-than-fashionable smile. Porcelain veneers are one of the most versatile smile "accessories" that will work with every piece of your wardrobe, no matter the season.
Porcelain veneers vs. other cosmetic dentistry treatments >>
Porcelain Veneers Are the Most Versatile Smile Makeover
Models might stomp the runways with serious faces and no smiles, but the catwalk isn't real life. True fashionistas know they can't usually wear ensembles right off the runway, and that includes the posturing that goes with it. It's necessary to smile every now and then, even if you're a super-serious New Yorker. You may need to give a presentation, make a sale, interact with clients and customers, teach a class, or pose for a picture.
Whatever your professional or social responsibilities, your teeth and smile matter. Manhattanites have found that porcelain veneers are one of the best smile makeover choices, for a variety of reasons:
Veneers can repair multiple aesthetic problems at one time – chips, stains, discoloration, short teeth, worn teeth, uneven teeth, and more.
Porcelain veneers are incredibly durable, long-lasting, and resistant to stains.
It typically takes only two visits to your Midtown Manhattan cosmetic dentist to complete your veneers.
Veneers are one of the most natural-looking smile makeover solutions. The color and translucency of the ultra-thin veneers mimic the look of natural teeth.
In other words, getting porcelain veneers is like having a wardrobe designed for you and you alone. The veneers will flatter your face shape and skin tone, and the veneers will make your smile look its very best, every single day.
7 ways porcelain veneers can change your life >>
Fringe Benefits of Porcelain Veneers
Porcelain veneers are used to transform smiles every day. This cosmetic dentistry treatment, however, offers many perks beyond the obvious:
Porcelain veneers never go out of style. While a new fall or spring wardrobe may be exciting, its appeal won't last very long if you are conscious of the ever-changing trends. Porcelain veneers, however, last longer than any popular design technique or much-hyped brand name. Your smile makeover will always be the style that looks right on you.
You can get veneers at any age. Even if you can't make certain beloved clothing styles suit your age or station in life, a smile makeover can always help get you noticed in a good way. Or if you're considering investing in your appearance but aren't sure where to direct the budget, cosmetic dentistry gives you the most obvious and rewarding bang for your buck.
Veneers can make you look like a celeb. Have you ever admired the teeth of a celeb? Have you ever wanted to be admired like celebs are admired? Have people talking about you in a good way when you renew your smile with porcelain veneers. Those celebs weren't born with such amazing DNA that they all have perfect teeth. Your smile can be flawless too, and look completely natural.
FAQs about porcelain veneers >>
Gotta-Have-It Smile Makeovers
No matter your age, occupation, or interest in fashion, your Manhattan cosmetic dentist will determine if you are a good candidate for porcelain veneers, Lumineers, or another type of cosmetic dentistry treatment. Make your appointment with Dr. Michael J. Wei, NYC cosmetic dentist, to find out what type of procedures will work for your smile makeover. You can have an amazing-looking and long-lasting accessory – a gorgeous smile.