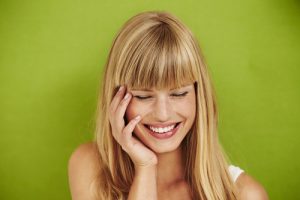 So many people avoid going to the dentist because they're ashamed of their teeth. They want their smile to be better. They want to lose the self-consciousness. However, admitting that your smile is breaking down and far from perfect can be a challenge. Here's the reality: You should never worry about approaching your Manhattan dentist about fixing your smile. Restorative dentistry and cosmetic dentistry are intended to help the patients who need to truly reshape their teeth and gums. Your smile makeover is only as far away as your bravery to pursue it.
Speedy cosmetic dentistry with maximum impact >>
You Can Have a New Smile
If your teeth are significantly damaged or breaking down, you know you need help from a cosmetic dentist. You can get that help, if you seek it out. No one can make you go to the dentist, but gum disease treatment, dental implants, porcelain crowns, porcelain veneers, and Lumineers are just some of the cosmetic and restorative dentistry treatments available to improve your smile in appearance and function.
Your dentist has seen everything, and holding back on pursuing necessary dental repairs is only doing a disservice to yourself. If you have dental anxiety, if you worry about how many procedures you will have to have done, sedation dentistry is always an option. You can "sleep" your way through your appointment and wake up with a rejuvenated smile.
Complete your smile makeover wish list >>
Make Your Choices for Restorative Dentistry
Modern dentistry is amazing. There is no one-size-fits-all dental solution, and that's a good thing. Your smile makeover will be customized to your individual smile needs. Stained, crooked teeth? Choose porcelain veneers, or Invisalign and teeth whitening. Broken teeth? Opt for porcelain crowns or tooth bonding or dental onlays.
The options for repairing your smile are many, and all potential solutions for your oral health problems will be presented to you by your Manhattan dentist. He will make recommendations, together you will decide how to proceed, priorities will be set, and a plan of action will be put in place. Ideally, your smile makeover will only take a few visits to your dentist to complete. The worse your oral health, the longer your repairs will take.
Perfection, however, does take time. Be patient about getting your new smile. Once you've made the decision to improve your teeth, you will want the solution immediately. Waiting the right amount of time and moving from restoration to restoration in good measure will ultimately serve you better.
8 reasons you need a smile makeover >>
Double Down on Solutions for Your Smile
What many patients do not realize is just how much they will appreciate their smile makeover. Yes, your teeth will look better. They will be as perfect as they can be. What's even better is that teeth won't hurt anymore. The functionality of your teeth will be restored. You will be able to bite, chew, speak, and smile with confidence and ease.
Find out what's going on with your teeth. Determine if there is more happening under the surface that is threatening the health of your smile. Make the decision to change your life for the better – personally, professionally, socially, romantically – by investing in a smile makeover. Contact Dr. Michael J. Wei in Midtown Manhattan to schedule your consultation.