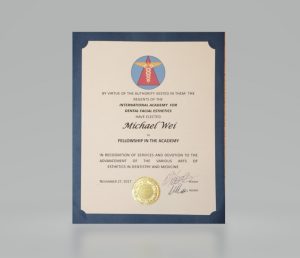 Recognition from professional peers is an achievement, especially in the field of cosmetic dentistry. Dr. Michael J. Wei received one such honor when he was awarded a fellowship in the International Academy of Dental Facial Esthetics (IADFE) on November 27, 2017, at the Harmonie Club in New York City.
The fellowship recognizes outstanding leadership and achievement in dentistry. IADFE fellows are encouraged to network within their peer group so they can benefit from educational opportunities, patient referrals, and interdisciplinary relationships. "I am proud, honored, and very appreciative of this recognition," says Dr. Wei.
Facial Esthetics and Your Smile
Facial esthetics are not only about how you look, but also about how you feel. If you have mouth pain or tooth pain, if you are embarrassed to smile, if you have missed out on opportunities because of the appearance of your teeth – all these situations are reasons to seek out a New York City dental professional like Dr. Wei.
Through restorative dentistry procedures like dental implants, porcelain tooth crowns, and porcelain fixed dental bridges, Dr. Wei brings his patients' smiles to rights. Tooth restorations eliminate pain and return teeth to find working condition. These procedures also build the strong foundation that is necessary for Dr. Wei to do the more noticeable dental work – cosmetic dentistry.
Once your mouth and teeth are healthy, Dr. Wei can improve the color, shape, size, length, and alignment of your teeth to be flawless. Porcelain veneers are one of the most popular cosmetic dentistry options, with Lumineers following close behind. Teeth whitening remains an excellent way to brighten a smile.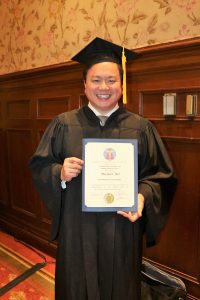 The beauty of aligning yourself with an experienced and respected dental professional like Dr. Wei is that you know you will always be satisfied with the treatment he provides. Customization is an essential element of Dr. Wei's New York City dental practice. Your smile will be yours alone.
Always Learning: A Busy Year for Dr. Wei
Dr. Wei has dedicated himself to improving his craft and expanding his education throughout his dental career. In the past year alone, he has:
Among these honors and continuing education efforts, Dr. Wei has maintained his exceptional cosmetic dentistry and restorative dentistry services. Dr. Wei is known in Midtown Manhattan as the cosmetic dentist who is settles for nothing less than perfection.
Though he is a much-lauded dental professional, Dr. Michael J. Wei is not unreachable or untouchable. If you need dental help, make your appointment at our Midtown Manhattan dental office.