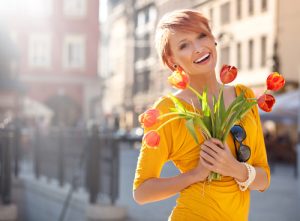 It's finally spring in New York City! Often accompanying the debut of long-awaited warmer weather is the desire to look like the best version of yourself after hiding away all winter. This is the season when people are motivated to work out more, freshen up their wardrobe, and change their hairstyle. One effort that will complete your "spring cleaning" now and for the foreseeable future – a stunning smile makeover.
Why Spring Is the Right Time for a Smile Makeover
Spring is a time of rebirth. The flowers and trees are blooming. Birds are singing. People are venturing out en masse. Tourists abound. You'll be anxious to enjoy yourself in the city, and out of the city. Does your appearance reflect your springtime energy?
You may feel like you're ready to embrace this warm weather, but a tired smile can derail all your plans. Social events, professional responsibilities, personal encounters – they can all feel less than excellent when you aren't confident about how you look. A stained, crooked, or broken-down smile can easily make you feel less than your best.
A smile that's in disrepair may also not reflect your station in life. Whether you work in business, retail, modeling, finance, law, education, acting, food service, philanthropy, publishing, parenting, or otherwise, your smile matters. Through your smile, you convey emotion, feeling, pleasure, happiness, and warmth. Your smile invites people in, sends message, punctuates your words, and is evidence that you either take good care of the details, or you let them fall by the wayside.
As you spring clean the rest of your life this time of year, think about how a smile makeover can change your daily life now and for decades to come.
Springtime Smile Improvements
Your smile makeover will be unique to you based on your oral health, the kind of cosmetic dentistry or restorative dentistry you want, your schedule, and your budget. While all dental enhancements and restorations improve the appearance of your smile, there are some smile makeover procedures that pack a major punch immediately. Here are just some of the treatments you may want to consider as you spring into a new you:
Porcelain veneers: There is no doubt about it, veneers are one of the most versatile and stunning smile-altering cosmetic dentistry procedures available. You can correct multiple aesthetic complaints at one time with the placement of customized veneers. Your smile will be straight, white, and bright. Your teeth will be the right size and length for the shape of your mouth and complement your overall appearance. Above all, veneers look natural and are super-strong. This isn't just a spring cleaning – this is an all-season overhaul that will make you look amazing for decades.
Teeth whitening: When you want results and you want them pronto, a professional teeth-whitening treatment can give you gleaming teeth in just about an hour. Teeth whitening is effective, long-lasting, and makes not-so-perfect teeth so spectacular it's easy to overlook any imperfections.
Cosmetic tooth bonding: If you feel like your smile is unflattering because of a few problem areas, cosmetic tooth bonding can correct a multitude of sins in a short amount of time. In one office visit, you can have several teeth corrected, whether they're discolored, jagged, or chipped, so they blend right in with your natural teeth. In many cases, tooth bonding can even take the place of a porcelain crown.
Ready to say yes to your personalized smile makeover? Schedule your consultation with Dr. Michael J. Wei at his Midtown Manhattan dental office on Madison Avenue. Get out into the city during this beautiful spring, and get your smile ready for summer and beyond.