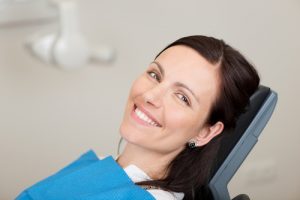 There are many anxious dental patients in New York City. There are also just as many patients who are desperate to do something to improve the appearance or functionality of their teeth. It can be a challenge to help a smile makeover come to life when you have fears about being in the dentist's chair, but there are plenty of ways to ease yourself into a smile makeover and get the amazing results you want.
Fix the foundation.
If your teeth are in extremely poor condition, if you have tooth decay and pain and gum disease, these problems will need to be addressed before you can improve the aesthetics of your smile with cosmetic dentistry. The good news is that your teeth can be fixed, no matter what state they're in, you'll just have to be patient.
Your Midtown restorative dentist will focus on rebuilding the foundation of your smile through various means, and they don't all have to happen at the same time. Gum disease treatment often comes first because it is the most serious condition and the one that can do the most damage to your teeth and gums. You may need root canal therapy or extractions, and while these procedures may sound scary, in the right hands they will be done efficiently and carefully to keep your anxiety at bay.
Beautify.
Once your oral health has been restored to good working order, you will discuss the restorations and cosmetic dentistry treatments that will work best for your smile makeover. This is the exciting part! You're rebuilding your smile exactly the way you want it.
If you did have any teeth pulled, these will need to be replaced – dental implants or dental bridges and crowns work best. If there are any teeth that are damaged or deteriorating, these can also be covered with a porcelain crown or even fixed with cosmetic tooth bonding or tooth-colored fillings.
Some of the most popular methods of beautifying your smile are through cosmetic dentistry. Porcelain veneers fix multiple problems at one time, making your teeth look straight and natural in size, shape, and color. Lumineers are a popular alternative to veneers, especially for the nervous dental patient who would prefer a less-invasive cosmetic upgrade.
"Sleep" through your smile makeover.
Daunted by any of the above? You don't have to be. Because dental anxiety is one of the most common reasons people avoid seeing the dentist, even for a regular dental cleaning, oral health can fall into great disrepair. All the above-mentioned endeavors – whether restorative, cosmetic, or preventive – can be tended to thanks to the help of sedation dentistry.
Along with laughing gas and local anesthetic, oral conscious sedation – also known as sedation dentistry – lets you "sleep" through any procedure that stresses you out. You will feel drowsy, relaxed, and this release of tension will make it easier for your Manhattan dentist to complete whatever procedure you're having done. It's even possible to complete multiple procedures at one time thanks to oral sedation.
Take action.
A smile makeover is possible for everyone, no matter the current condition of your teeth and gums. Some people can see a major improvement immediately, others will need a little patience to get their smile in good working condition again. Suffice it to say: You can ease yourself into a smile makeover so your anxiety can get used to the idea.
Contact your Manhattan cosmetic dentist, Dr. Michael J. Wei, to learn more about the solutions that are right for you, and be up front about your nerves. It is always our goal to make you comfortable for every dental procedure so you'll never hesitate to make your oral health a priority again.