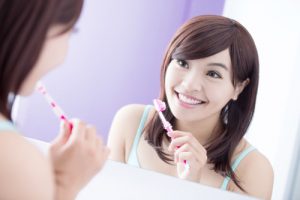 There are many cosmetic dentistry treatments that create a gorgeous smile makeover and give you the white, straight teeth you've always wanted. It is hard to find a measure, however, that is as effective and long-lasting as porcelain veneers. Here are just some of the reasons to say yes to porcelain veneers and get your perfect smile in NYC.
1. Versatile.
Crooked teeth? Chipped teeth? Stained teeth? Veneers have the power to correct multiple aesthetic complaints, all in one procedure. Instead of choosing Invisalign and teeth whitening or cosmetic bonding and porcelain crowns, you can take care of everything at one time with porcelain veneers.
2. Look natural.
One of the biggest complaints dental patients have at our Midtown cosmetic dentistry office is that another dentist gave them veneers that were far too obvious and not at all right for their mouth. The application of veneers is an art that, done correctly and with appropriate materials, will make your teeth look like you hit the DNA jackpot when it comes to oral health.
3. Customized.
One of the reasons quality veneers look natural is because they are customized to each patient's individual needs. Color, shape, size, length, and translucency are all taken into consideration and developed to complement your appearance.
4. Stain resistant.
If one of your biggest reasons for choosing veneers is to eliminate the stains or discoloration of your teeth, you'll be delighted to know that veneers are incredibly durable and resistant to stains. Nevertheless, it's still essential to take good care of your teeth daily at home and with dental visits every six months to ensure that the veneers are top-performing from day one and over the next few decades.
5. Cost-effective.
Veneers are on the higher end of cosmetic dentistry treatments, however, the dividends paid out over the years make this a worthwhile investment. When people have veneers, they are more likely to treat their smiles with great care to ensure that the enhancement continues to look good.
6. Boost confidence.
It's hard to deny that knowing you look good gives you incredibly confidence. A broken-down or damaged smile can eat away at your self-esteem, but a smile that looks healthy and functions properly will enhance your life so dramatically you'll wonder why you waited to make such an impactful change to your appearance.
7. Happiness.
Happy people smile, and the more you smile the happier you'll be. Smiling is contagious and it's good for you. Being proud of who you are and how you look – including the amazing appearance of your smile – can help you find your way professionally, personally, socially, and romantically. Veneers, done well, will only improve your life. Who can argue with that?
Schedule your consultation with award-winning Midtown Manhattan dentist Dr. Michael J. Wei to find out everything you want and need to know about porcelain veneers and to determine if you are a good candidate for this life-changing procedure. Contact us to schedule your visit.