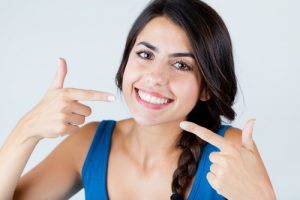 Prepless veneers create gorgeous smiles through a non-invasive technique. Instead of removing tooth enamel, which is necessary for porcelain veneers, your Midtown Manhattan cosmetic dentist usually only needs to clean and lightly sand natural teeth to get them ready for the placement of prepless veneers. You could be just a few appointments away from the smile makeover you've always wanted.
Transform Your Smile with Veneers
No matter which type of veneers you choose – traditional porcelain veneers, prepless veneers, or Lumineers – you're signing up to get a beautiful, new smile. Each of these cosmetic dentistry options can work the same magic:
Conceal chipped teeth.
Lengthen short teeth.
Align crooked teeth.
Hide stains and discoloration.
Bridge gaps.
Essentially, veneers perfect your smile, in whatever way you need. If you have healthy teeth and gums, there is a very good chance that you are an ideal candidate for prepless veneers. Your Manhattan dentist will let you know for sure after a consultation and exam.
The Prepless Veneer Difference
The term "non-invasive" makes hearts leap when it's connected to a dental procedure. Far too often, dentists are associated with drills and pain, but some dentists are in the business of transforming lives. Prepless veneers not only make you look better, they make you feel like the best version of yourself, without having to endure any discomfort.
Versatile and effective, prepless veneers are constructed of thin, durable porcelain. Each tooth's makeover is meticulously planned so your entire smile looks natural and the shades of your teeth complement your skin tone. Your new smile should enhance what you already have and blend in with your appearance so that people will notice you're suddenly happier and smiling more – they just might not be able to figure out why, and that indicates a job well done.
Cosmetic Dentistry for the Anxious Patient
The simplified process for the prepless veneers is especially appealing to anyone who has anxiety about the dentist. You can get the smile makeover you want without enduring an invasive treatment. Prepless veneers make new smiles possible for people who never thought they would have the guts to get in the dentist's chair for a cosmetic dentistry procedure.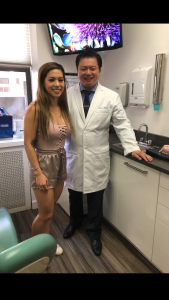 Making the process even more palatable is the option to get sedation dentistry. For patients who need a way to stay calm and relaxed, who would rather "sleep" through their procedure and wake up with a new smile, there is oral-conscious sedation.
Real-Life Success Story with Prepless Veneers
Dr. Michael J. Wei creates satisfied dental patients and changes lives every day. One look at his smile gallery is proof that people leave his Madison Avenue dental office as better, happier versions of themselves, whether they received prepless veneers or another type of cosmetic dentistry.
A recent patient, Jenny, surprised Dr. Wei with a cake to express her thanks and appreciation. "I am so privileged to have such amazing patients like Jenny. She was extremely happy with her smile makeover where I used minimum-prep porcelain veneers," says Dr. Wei. "She looks fabulous and tells me she gets tons of compliments since I gave her a new smile. I am so lucky and grateful that I get opportunities like this to change peoples' lives every day."
Let Dr. Wei change your life with your own prepless veneers smile makeover. Contact us to schedule your visit.