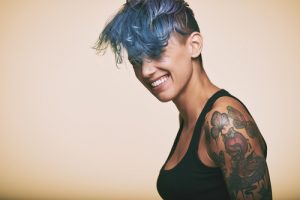 We all express our personalities in unique ways. Some people choose to change their hair color, others opt for jewelry, and still more curate their own collection of tattoos and body art. Your smile, however, is unique to you no matter how you look at it. Plus, upgrading your smile using porcelain veneers is a permanent change you will never regret.
What's So Great About Porcelain Veneers?
Ask any person who's gotten porcelain veneers and they won't be able to stop gushing about them. (That is, if they've had their veneers done by a truly talented NYC cosmetic dentist.) Smile makeovers change lives, and veneers are often a big part of peoples' new smiles.
Veneers are designed to correct multiple aesthetic complaints, including:
Chips.
Fractures.
Stains.
Worn teeth.
Gaps.
Misalignment.
Plus, veneers offer advantages to the health of your teeth, including:
Protecting tooth structure.
Resistant to staining and discoloration.
Strengthening weak or cracked teeth.
Improving tooth function.
Veneers are strong, durable, and they can last for decades with proper care and upkeep, including daily brushing and flossing and dental check-ups and cleanings at your Manhattan dentist every six months.
Types of Porcelain Veneers
There are three types of porcelain veneers. They all have similarities, and they all stand out for their own reasons. Most importantly, they result in the same kind of amazing smile when put in place by a meticulous Midtown cosmetic dentist who understands the artistry of cosmetic dentistry.
Porcelain veneers: Traditional veneers are wafer-thin, like a contact lens. They are custom-made to blend beautifully with tooth enamel so your teeth look completely natural when the work is complete. Porcelain veneers do require tooth enamel to be slightly sanded down to allow room for the thickness of the veneers to sit on the teeth and create a strong bond. This element of prep can be unappealing to some patients, so they may be interested in…
Prepless veneers: The prepless veneer procedure requires, of course, minimal prep. Teeth are cleaned and lightly sanded to eliminate any surface stains and minor imperfections to ensure that nothing interferes with the color and thickness of your veneers. Prepless veneers are incredibly thin, even more so than traditional veneers, and the shading of each veneer must be carefully created so that it blends naturally with the tooth enamel underneath.
Lumineers: Lumineers are considered a non-invasive smile makeover solution. There is no shaving down of teeth. Just like traditional veneers and prepless veneers, Lumineers are ultra-thin and incredibly strong and transformative.
The biggest factors in determining which porcelain veneers are right for you are the current condition of your teeth, budget, and willingness to endure the procedure.
When you want to repair, straighten, shape, and lengthen your teeth with cosmetic dentistry, veneers are the go-to solution. Make an appointment with Midtown Manhattan cosmetic dentist Dr. Michael J. Wei to find out if you're a good candidate for veneers.