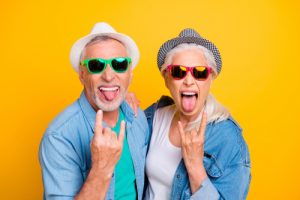 When you reach a certain age, it's easy to say, "Oh, I'm too old for that." Maybe you think you're too old to wear a belly-baring top, get piercings, or take up the bass guitar – but we like to believe that you're never too old for anything, if you have the confidence and desire to rock it. What we absolutely know is that you're never too old for cosmetic dentistry and a beautiful new smile.
Recapture Your Youth with Cosmetic Dentistry
Once upon a time, you had beautiful teeth. You smile was white, flawless, and healthy. As the years went by and you spent day after day biting, chewing, and abusing your teeth with coffee, wine, hard candy, and more, what was once gorgeous became faded.
You can take great care of your teeth, brushing and flossing daily and seeing your NYC dentist every six months. Eventually, though, the years do catch up with you. Avoiding stains and discoloration is difficult. Receding gums may be a side effect of decades of stress and grinding your teeth. You may have taken medications that affected your oral health negatively and you're now suffering with the side effects. Maybe you were born with weak tooth enamel and you are often faced with cracked teeth or decay.
Cosmetic dentistry takes care of these problems. For some patients, full-mouth reconstruction and other dental restorations must be tackled first to address any oral health problems. Once the foundation of your smile is established, it's time to beautify – and cosmetic dentistry procedures like porcelain veneers, prepless veneers, or Lumineers give you a glorious white smile once again.
Look Years Younger with Cosmetic Dentistry
If you're prone to seeking out anti-aging methods like face creams, diets, or other techniques, don't neglect what's right in front of you – your smile.
Upgrading your teeth is one of the fastest ways to look younger. Teeth whitening is one of the most powerful cosmetic dentistry treatments. In just about an hour, you can have a smile that is shades whiter and makes you look young and healthy. Even if your teeth are misaligned or aesthetically imperfect, a whitening treatment does a little magic, concealing the flaws because everything else looks so great.
Appreciate the Anti-Aging Properties of Cosmetic Dental Procedures
Wrinkles and sagging skin are part of aging, unless you have amazing genes. Procedures like porcelain veneers have the power to shave a few years off your age. Veneers are super-thin, but the way they sit on your teeth they bump out your lips just a bit, giving the illusion of a plumper pout and sometimes even minimizing the fine lines around your mouth.
If you have silver fillings, they will age you – you're of a generation when silver fillings were what people got to repair cavities and that was it. Tooth-colored fillings replace amalgam fillings and not only make your smile whiter, but protect you from toxic mercury.
You Qualify for a New Smile, Whatever Your Age
You're never too old for cosmetic or restorative dentistry. Your dentist has seen it all, so even if you're dealing with the pain of gum disease or other infections and discomfort, there are solutions. Your oral health can be restored and your smile turned into a wonderful new version of itself that is functionally sound and beautiful.
Schedule your appointment with Dr. Michael J. Wei at his dental office on Madison Avenue to talk about the cosmetic dentistry treatments that are right for you.