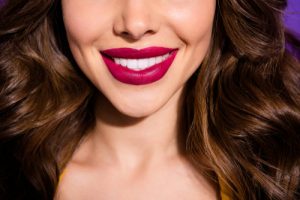 Plump lips are luscious, sensuous, and a sign of youth and beauty. There are multiple ways to get that bee-stung look, whether you try lip-plumping gloss, fillers, or a lip lift, which is predicted to be the next "it" plastic surgery procedure. Why go under the knife, though, when you can boost your lip plumpness permanently with cosmetic dentistry and beautify your teeth at the same time?
Invasive Treatments for a Plump Pout
Lip injections of hyaluronic acid help pouts balloon into a voluptuous shape, but they require return visits to your plastic surgeon or dermatologist every few months to keep the look in place. Plenty of celebs have tried it, some lament that they ever opted for a lip filler, and others have latched onto the enhancement (Kylie Jenner) and show no sign of letting go. When it works, why would they? Full lips are a coveted characteristic. Done well, the injections create beautiful lips.
However, permanent is far preferable to temporary when it comes to beauty enhancement. You want to look consistently good and natural. This awareness has many plastic surgeons promoting the benefits of the lip lift, a surgical procedure that permanently increases how much pink lip is visible.
A lip lift usually takes under an hour and is performed under anesthesia, but it's invasive. Your surgeon must remove a small slice of tissue from under your nose, which leaves a scar, though it is promised to be subtle and hidden as well as possible. Healing takes a few weeks and the stitches remain in place for at least a week. That's a commitment – and if you're cringing thinking about it, it's time to consider what cosmetic dentistry can do for you.
Non-Invasive Cosmetic Dentistry for Fuller Lips
As you age, the ligaments that support the skin of your face loosen and weaken. That perkiness and fullness you once had around your mouth thins out, aging you. Cosmetic dentistry like prepless veneers takes only two visits to your NYC dentist and your new smile will be in place for good, giving your lips a natural-looking little boost, no downtime necessary.
Veneers are bonded to your permanent teeth and, though they are super-thin and look natural, they do add some heft to your smile, pushing your lips out ever so slightly. The result is not only flawless teeth, but a plumper set of lips.
Get a NYC Smile Makeover with No Downtime or Scarring
Dr. Wei changes smiles and lives with his cosmetic dentistry. He is an experienced and highly trained cosmetic dentist, but he is also an artist who considers the entirety of his "canvas" before he creates. Your age, gender, face shape, skin coloring, and more are all elements that contribute to the whole, and Dr. Wei looks at every characteristic to create a customized smile makeover that is flattering and beauty-enhancing.
Schedule your smile makeover appointment at Dr. Wei's Madison Avenue dental office in Midtown, or choose a smile virtual consultation, which allows you to conveniently submit photos and a form detailing your concerns and questions. In return, you will receive a video response with Dr. Wei's recommendations.