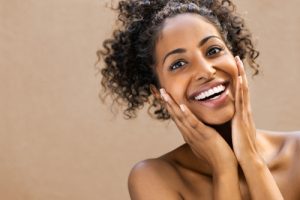 Veneers are a life-changing cosmetic dentistry procedure. They make broken-down smiles new again, revitalize aging teeth, and make people look smarter, wealthier, happier, and like a certified VIP. While many people are perfectly aware of the benefits of veneers, they pause in their pursuit of this smile makeover because they are wary of the veneer procedure. Time to learn about the magic of Microthin veneers – the new, non-invasive way to transform your smile.
1. They do not damage your teeth.
Traditional porcelain veneers are a partially invasive procedure. It's often necessary to remove tooth enamel to make room for the veneers fit over natural teeth. Microthin veneers eliminate the need for enamel to be removed because they are made of incredibly thin porcelain. The veneers fit snugly over natural teeth, no drilling necessary.
2. Microthin veneers are reversible.
Because your original teeth don't need to be dramatically altered to make room for the Microthin veneers, this cosmetic dentistry procedure can be reversed. If the work is done well by a talented and experienced NYC dentist, however, there is no reason why you would ever want to change your smile back to what it once was.
3. Veneers are custom-made.
All veneers are custom-made, whether you go for traditional porcelain veneers, Lumineers, Microthin veneers, or otherwise. That is the beauty of this smile makeover – it's meticulously designed just for you. The color, shape, size, and length are carefully worked out to look just right while adhering directly to the front of your natural teeth.
4. Microthin veneers correct multiple cosmetic complaints.
There are many reasons patients pursue veneers, but there are some factors that make you a better candidate for veneers than any other procedure. You may want to:
Make a narrow smile broader
Eliminate small teeth
Correct worn teeth
Conceal chipped or cracked teeth
Look younger
Straighten misaligned teeth
Your Midtown cosmetic dentist will examine your mouth and teeth to make sure your oral health is in good condition and you are a good candidate for Microthin veneers. If you are, this procedure can truly transform your entire appearance, and your entire life. A smile is a powerful thing, and if you are proud of how you look, you'll be that much more confident and secure in all areas of your life.
5. Only some dentists are certified to place Microthin veneers.
The design and placement of Microthin veneers, just like all veneers, requires technical skill and precision. You only want to work with a cosmetic dentist who has completed specialized training and earned a Microthin veneers certification.
You only get one smile, and you want the right professional to change yours into something new and amazing. Schedule your consultation with Dr. Michael J. Wei, Microthin-veneer-certified dentist, to learn more about all types of veneers and find out what kind is right for your smile makeover. Or submit a Smile Virtual request online for a convenient virtual consultation.