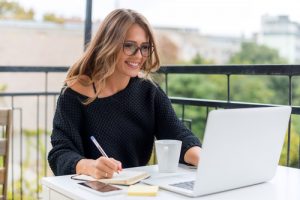 If the last six months have taught us anything, it's that so much of life can keep on rolling as long as you have technology at your fingertips. That smile makeover you were ready to get started? The one tooth that has always marred your appearance? You don't have to wait to upgrade – a virtual consult with your New York City cosmetic dentist is ready for you right now.
1. It's convenient.
A virtual consult is convenient, so you can explain your concerns and ask your dentist questions from the comfort of your office, kitchen, bedroom, or wherever you feel most comfortable. All you need is a smartphone and an internet connection. Fill out the online form, attach your photo, and done!
2. It's easy.
Only a few essential pieces are required to submit your case for a virtual consult. A close-up selfie is needed, of course, so your NYC cosmetic dentist can get a good look at your teeth, smile, or area of concern. This is the time to share any worries you may have or desires you'd like fulfilled regarding your smile. That's it – a photo and some info, and submit.
3. It's fast.
Within a few days, you will receive a personalized video response from your dentist, offering comments about your smile, addressing your unique concerns, and making recommendations for cosmetic dentistry or restorative dentistry. This gives you time to sit with the information, think about what you want, and be fully prepared when you call to schedule an in-person appointment.
4. Reliable information.
Many people like to do their own research before they embark on a smile makeover. Your dentist understands this and encourages it. It's good to be educated about the possibilities that are available and the decisions that await you. Once you've received your video response from your dentist, you can take the time to look up all the recommended procedures and weigh each one. Think about what procedures you would be most comfortable undergoing, which you can afford, and whether this is the right choice for you at this time.
5. It's safe.
The less you need to leave your house right now, the better. A virtual consultation allows you to begin your smile makeover from a safe space and stay home as you make decisions. Then, when you visit your dentist's office, you will be in a secure and carefully vetted, cleaned, and monitored area for treatment. Above all, take care of your oral health and make it a priority, no matter what circumstances we're living in.
Do Your Smile Virtual Consultation Today
If you would feel more comfortable starting slow with your smile makeover and waiting to schedule an in-person consultation with your dentist, find out what's possible for your smile before you go to the office. Submit a free Smile Virtual video consultation with your Manhattan dentist Dr. Michael J. Wei to learn more about improving your smile or addressing a dental concern.
Your dental needs don't have to wait. We hope to see you in person soon. Contact us today to learn more or to schedule your appointment after a virtual consultation.