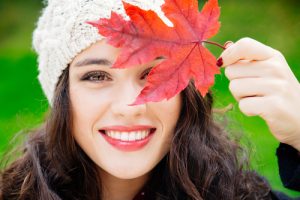 Fall and winter mean bundling up. Because of cold temps, some days your entire body may be covered, except for your face. Your smile is always there, shining through, making itself known. Are you proud of the teeth you show to the world? Or are you embarrassed by them? Fall is a great time to improve your look with a smile makeover, and here are just a handful of reasons why.
1. You'll get an energy boost.
Fall weather invigorates some and depresses others. If you're in the camp that needs some motivation because it's cold outside and there are fewer daylight hours, you can carry lightness around with you when you see a bright, gleaming smile every time you look in the mirror.
One of the fastest and easiest ways to boost your smile and your look is with professional teeth whitening, which can get teeth multiple shades whiter in just an hour in your NYC dentist's office. You can also opt for professional-grade, customized, take-home whitening kits that you do on your own time, gradually whitening your smile into a megawatt grin.
2. All your photos will be better.
Whether you're posing for a school picture, candids in the pumpkin patch, or holiday card photos, you want to look your best – and that includes your teeth. If there are problems with your smile that have plagued you for a long time, there is always a way to correct them.
Cosmetic dentistry fixes big and small problems alike. If you have one tooth that is unsightly because of its shape or color, a porcelain crown can conceal the issue and make your tooth blend naturally into the rest of your smile. If you are tired of your gummy smile, laser gum recontouring is a minimally invasive procedure that reshapes the gum line quickly and permanently for a dramatic and immediate smile makeover. Whatever the complaint, your Midtown cosmetic dentist can fix it.
3. You'll be party ready.
The holiday season is only a few months away, so if you want to make a splash at end-of-year get-togethers – whether they're in person or via a screen, whether you'll be partying with friends or sitting down with family – now is the time to begin making a change.
Some smile makeovers take more time than others, but they're worth the wait because they deliver incredible impact. Porcelain veneers, for example, take only two visits to the dentist to complete, but there must be time for prep, for the veneers to be customized in the dental lab, and for the veneers to be bonded in place. By the end of it, your smile will be amazing, but if you want veneers by December, start planning for them now.
Upgrade Your Smile for a Fantastic Fall
You don't need to do much to your smile to make a big impact. Even the smallest cosmetic dentistry upgrades can transform how you look and how you feel about yourself. Give your self-confidence a boost with a smile upgrade from Manhattan cosmetic dentist Dr. Michael J. Wei. Schedule your consultation at his Midtown Manhattan office, or submit a Smile Virtual request online from the comfort of your home.