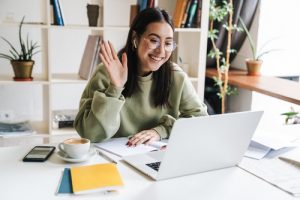 Good lighting and a strategic camera angle can only do so much for your appearance on your Zoom calls. It's easy to hide some flaws when you're only revealing a head shot at every meeting, while other elements of your appearance will be heightened – namely, your smile. Find out what cosmetic dentistry can do to make your teeth look better on every video call.
Get a Perfect Smile for Your Next Video Call
It's not just other people who are staring at your face on Zoom – you're staring at yourself the whole time too. That kind of constant attention can really make you start to nitpick about your appearance and worry about how others see you.
It's difficult to enhance just one element of your appearance on a video chat through savvy filters, but you can certainly improve just one aspect of your appearance through cosmetic dentistry. Boost your confidence, your look, and your performance by investing in a personalized smile makeover. Consider any of the following treatments:
Whiten up with teeth whitening. Schedule an appointment for a quick one-hour ZOOM! Whitening treatment or have customized teeth-whitening trays made for your smile. You can whiten your teeth on your own time in the comfort of your own home and be ready for that next close-up video call.
Invest in Invisalign. If you can't stand looking at your crooked, gapped, or misaligned teeth anymore, a course of Invisalign can straighten your smile discreetly. Your Zoom comrades won't notice that you're sporting clear aligners on your teeth, but your smile will consistently look better and better until it's in completely alignment.
Fix it all with prepless veneers. When you have teeth with multiple aesthetic flaws – chips, cracks, discoloration, stains, misalignment – you may feel like there is no way to address it all within a decent timeline and budget. Prepless veneers, however, are super-thin porcelain customized to conceal every unsightly element of your teeth and make your smile look perfect.
Repair that one annoying tooth with cosmetic tooth bonding. You know the tooth that drives you crazy – the one that stands out from the rest of your smile and not in a good way. Cosmetic tooth bonding takes only 30 minutes per tooth to complete and that little fix can completely transform how you look and feel about yourself.
Choose the Right Cosmetic Dentistry Procedure for Your Smile Makeover
Whether you're Zooming with your coworkers or class, FaceTiming with your parents or friends, or getting on Skype for a job interview or virtual date, you want your face to look its very best. Cosmetic dentistry can help you get there. In fact, your smile can look so great that no one will notice if you haven't bothered to do your hair or makeup or even get out of your pajamas!
Discover the smile makeover that's right for you. Contact Dr. Michael J. Wei today to schedule an appointment or submit a Smile Virtual request online for a virtual consultation to learn what's possible for your new smile.