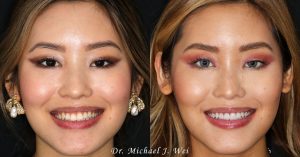 Whether you are already an influencer, model, or actor, or whether you're working hard to achieve celebrity status, you can boost your star tenfold with a customized smile makeover. Getting professional support for a smile that is improved in appearance, functionality, and health is a worthwhile investment for anyone, but especially those in the entertainment industry.
A Subtle but Transformative Smile Makeover
Model Jarry Lee is an established influencer who recently turned to NYC dentist Dr. Michael J. Wei to get porcelain veneers on four of her teeth, and this choice has made all the difference for her. She wrote: "You can see that my teeth before were not completely straight and the edges were textured so they weren't smooth. Thanks to Dr. Wei's amazing work, my new smile is brighter, straighter, and smoother, yet still looks natural! I'm so happy with the results!"
As a model and influencer, Jarry Lee is on camera often. Connecting with a fellow perfectionist like Dr. Wei allowed for a stunning collaboration and transformation for this VIP. Your smile upgrade doesn't have to be a secret – you can get those beautiful teeth you've always wanted and boast about it, like Jarry Lee.
One of the best comments on Jarry Lee's Instagram post talking about her veneers? "Wow, they are so natural looking. I would have never known." That's the kind of smile makeover everyone deserves – a transformation so subtle but also so powerful that people will wonder what it is that makes you look even better than before.
Do You Know What Your Smile Needs?
Jarry Lee only wanted to upgrade her four upper front teeth because she didn't want to change her smile too much – but she still wanted it to be flawless. You don't have to go into your appointment with your NYC cosmetic dentist knowing exactly what you want though. You can simply ask your experienced dentist what he recommends for your best look.
Lee didn't like the irregular shape and size of her teeth – her right lateral and central incisors were longer than the left lateral and central incisors, creating a slanted smile that sloped in one direction. Through the magic of minimum-prep porcelain veneers and the expertise of Dr. Wei, Lee's smile makeover was done easily and gave her a straighter, brighter, gorgeous smile.
Even people who are already in the spotlight can be self-conscious about their appearance – in fact, they're sometimes more likely to be self-conscious because they always have to be "on." If you're unhappy with the appearance of your smile, that's all you need to know – together with Dr. Wei you can discover what's possible for your upgrade.
Choose Porcelain Veneers for Your New Smile
Go all-in with a free Smile Virtual consultation. Show Dr. Wei your teeth and smile, talk about what you dislike about your teeth and what you're hoping to change. There is no commitment. You'll receive a personalized video message in return and can sit with his recommendations. When you're ready to learn more, schedule an in-person consultation at his conveniently located Midtown office.
Today is the day – choose to influence your life in a good way by making your teeth a priority. Find out if porcelain veneers are the right smile makeover for you.