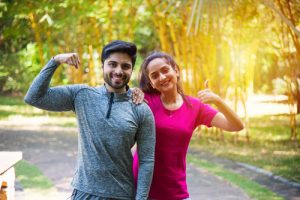 A laser gum lift is a powerful transformation all by itself. If you have long lived with a gummy smile that has made you feel self-conscious or made you avoid smiling, choosing to eliminate some of that unwanted pink from your grin is a big deal. Combine this move with another transformative cosmetic dentistry treatment – porcelain veneers – and you will have a stunning smile makeover.
Reasons to Get a Laser Gum Lift
A gummy smile can be caused by several things, including poorly erupted teeth, enlarged gums, a short lip, or overgrown jaw. Most of these circumstances are simply the result of your unique DNA, but you don't have to live with excess gum tissue and its side effects.
How you see your smile is very individual. You may classify yourself as having short teeth when really what you have is a case of too much gum tissue. You may determine that you have a gummy smile when you're living with enlarged gums.
Ultimately, it's whether you choose to do something about your smile that makes all the difference. No matter what is bothering you about your smile, there is always a solution to fix it. Ridding yourself of a gummy smile begins with talking to your NYC cosmetic dentist about a laser gum lift.
How the Laser Gum Procedure Works
A laser gum lift reshapes the gum line and shows off more tooth than gum. The modern, sophisticated dental laser is more comfortable than ever before and allows for a minimally invasive procedure. The gum line is quickly and comfortably reshaped, with only the need for a local anesthetic. The work is precise and the results are immediate and dramatic, creating a beautiful symmetrical smile.
For many patients, this laser gum lift isn't enough to complete their smile makeover. The annoyance of short teeth – even after excess gum tissue has been removed – may be something you want to ensure is eliminated forever. Time to talk porcelain veneers.
Add Porcelain Veneers to Your Smile Makeover
Porcelain veneers are designed to change the size, shape, length, and color of teeth. Short teeth can be remedied with this cosmetic dentistry procedure, but the effects will be even greater if you get laser gum treatment first.
When you want longer teeth, veneers are customized to repair the tooth-to-gum ratio and, together with laser treatments, create the most attractive smile possible for optimal cosmetic results. Your NYC cosmetic dentist will take all the components of your smile into consideration to ensure that the way your teeth are edited will allow them to work in harmony. Teeth, gums, jaw, cheeks, lips, chin, and overall face shape all impact whether a cosmetic dentistry treatment is right for you and your smile makeover goals.
Find out if laser gum treatments, porcelain veneers, or another type of cosmetic dentistry is right for you. Schedule a consultation with Dr. Michael J. Wei at his Midtown Manhattan dental office or submit a Smile Virtual request with your photo and receive a personalized video message from Dr. Wei.