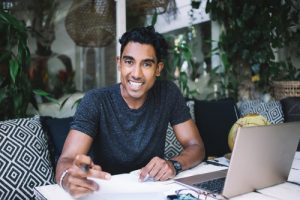 Maybe you weren't a star student in school, maybe you were – either way, you deserve a smile now that makes the grade. Get a customized smile makeover from your NYC cosmetic dentist and shape your teeth into what you want them to be. It's back-to-school season, and even if you're not in a classroom, this is an ideal time for reinvention.
Pay Attention to the Details
Anyone who does well in school is organized, on top of their game, and pays attention to the details. This means taking care of the little things while still making a big impact. There are two cosmetic dentistry treatments that fit into this category:
Professional teeth whitening gets your tooth enamel multiple shades whiter in a one-hour treatment at your Midtown dentist's office. If you want to make yourself stand out in a good way, whiten up with this customized bleaching treatment. Your teeth don't even have to be perfect to make it work for you because the bright teeth create an illusion of flawlessness.
If you have small cosmetic complaints that need to be corrected, cosmetic tooth bonding can make anything from chips to discoloration disappear in just about half an hour. This minimally invasive treatment is versatile and corrects both form and function of your smile.
Fix the Foundation
Think about all the math classes you took – it wasn't possible to successfully move on to a new topic until you mastered the previous one. The same goes for your smile. Sometimes, a smile makeover must begin with fixing the foundation of your oral health through restorative dentistry and preventive dentistry first.
If you have gum disease, cavities, infections, or gum recession, these are all matters that need to be addressed before a cosmetic repair can get underway. You don't want to try and build a new smile on a shaky base, so ensuring that your teeth and gums are fully healthy will make it possible to build a smile that makes the grade now and for decades to come.
Get Extra Credit
If you are in the market for the PhD of smile makeovers, talk to your cosmetic dentist about porcelain veneers. There are several types of veneers and they vary in composition and in how your teeth are prepped for the procedure.
Conventional porcelain veneers require the removal of some tooth enamel to make room for the veneers.
Microthin veneers are incredibly thin and require little to no prep of the teeth to fit the shields in place.
Prepless veneers are aptly name and need little more than a cleaning and light sanding of the teeth to make the porcelain fit properly.
Depending on your comfort level, budget, and goals for your smile, one or all these treatments may be a viable choice to conceal the cosmetic complaints you have about your smile. Veneers are designed to deliver a flawless, customized smile makeover.
Customize Your Smile Makeover
Every smile makeover is unique to the patient. Find out what should be on your curriculum. Schedule a consultation with Dr. Michael J. Wei at his Midtown Manhattan dental office or submit a Smile Virtual request with your photo and receive a personalized video message from Dr. Wei.