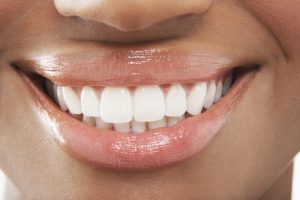 You want a big smile that's memorable, white, flawless, and makes you stand out in photos and look like a VIP. You're tired of your small, short, or dingy teeth that make you feel self-conscious and reluctant to smile. There is a secret to getting a bigger smile, and it may seem like some people have that information and you don't – but we're here to tell you that the answer is simple. Get porcelain veneers.
Types of Porcelain Veneers
Many people want a wider, broader smile. They feel like their upper teeth are out of proportion and leave dark spaces at the corners of their mouth, creating a narrow-looking smile. When the canine teeth or pre-molars are situated behind the teeth in front of them, this crowding and the odd shapes can make a smile look much smaller than it really is. Instead of white teeth, people see negative space.
Veneers, however, are designed to bond to the front of each visible tooth, optimizing a smile for all its characteristics – size, width, shape, length, thickness, color, alignment. Each veneer is custom-designed to create an attractive, proportional smile that complements all of your features.
If you work with an experienced NYC cosmetic dentist, you will have several types of veneers from which to choose to build your smile, including:
Traditional porcelain veneers: When people think of veneers, traditional porcelain veneers are usually what they consider. This cosmetic dentistry treatment requires the removal of some tooth enamel to make room for the porcelain shields that fit over the teeth. They're effective, powerful, and gorgeous, and they are a significant commitment.
Prepless veneers: Many patients are drawn to prepless veneers because they avoid the one thing they dislike about traditional veneers – the invasive prep that removes tooth enamel permanently. Prepless veneers require only a light sanding and cleaning of the teeth to get them reading for the customized veneers.
Microthin veneers: Just like prepless veneers, Microthin veneers are non-invasive and do not change the composition of the natural tooth. They are made of incredibly thin porcelain which demands precision and meticulous handling. Only special training and a high degree of technical skill makes this smile makeover and natural-looking results possible.
A Bigger Smile Makeover Success Story
Patient Lindsay came to Dr. Wei with short, small, discolored teeth. She was embarrassed about how they looked and wasn't happy with their dullness or with her dark, old tooth bondings. When viewing vacation photos and seeing her unsightly smile front and center didn't bring back good memories, she knew it was time to make a change.
After carefully evaluating Lindsay's teeth and overall oral health, they settled on porcelain veneers to create her smile makeover, customizing them in size, shape, color, and length to be as flattering as possible to Lindsay's face shape, coloring, and smile goals. Dr. Wei used 12 veneers to deliver a smile that is fuller, brighter, and natural-looking.
Broaden and Beautify Your Smile with Porcelain Veneers
Whatever you dislike about your smile can be changed, improved, and transformed to give you more beautiful teeth that you love and are proud to show off.
If you are interested in a porcelain veneers smile makeover, schedule a consultation with Dr. Michael J. Wei at his Midtown Manhattan dental office or submit a Smile Virtual request with your photo to receive a personalized video message from Dr. Wei.