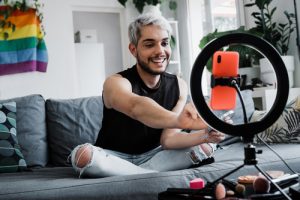 Whether you are an established influencer, aspiring influencer, or just aiming to entertain the masses who follow you, how you look affects your popularity on social media. If you invest in cosmetic dentistry, perfect teeth will make you stand out among your competitors and peers. You'll not only be known for your talents and cleverness, you'll be known for your stunning smile.
Make Your Influencer Star Even Bigger
Many influencers have one favorite platform. Maybe you're comfortable on Instagram and you post at least one photo a day, add to your story multiple times every day, create videos, post your thoughts on everything from current events to the weather, or make recommendations for your favorite things (all appropriate tags included). Whether you're happiest on Insta, TikTok, or otherwise, people are watching you – and they'll like watching you a whole lot more when your teeth look great.
Cosmetic Dentistry for Influencers
You want to be known, right? You want to be seen and appreciated and complimented. You deserve it for all the hard work you put into connecting with your followers and providing them with entertainment and information. Your teeth play a major role in how you present yourself to the world, especially when you're smiling or performing for the camera.
Here are just some cosmetic dentistry treatments that will make your rising star shine even brighter:
Teeth whitening: Want a major change as fast as possible? You can get a professional teeth whitening treatment in your Manhattan cosmetic dentist's office in about an hour. Even if your teeth aren't perfect, the whitening creates the illusion of perfection.
Microthin veneers: These are the superstar of cosmetic dental upgrades. Customized in size, shape, color, and length, veneers make your teeth flawless, your smile big, and your face memorable.
Cosmetic tooth bonding: If your budget is smile but your dreams are big, you can start your smile makeover with cosmetic tooth bonding, which corrects little imperfections and lends itself to developing a flawless smile.
Document Your Cosmetic Dentistry Journey
One thing your social media followers love the most is authenticity. They appreciate when people keep it real for the cameras. So don't think of your smile makeover as a concealment of the truth – take your followers along on the journey with you. Invite them into your head and your mouth so they can see why you want to improve your teeth and what it takes to get there.
You're already a content machine, but here's how we see it:
Talk to your followers about the cosmetic dentistry procedures you're considering.
Post your Smile Design photos and let followers duke it out when deciding what the best treatment is for your smile makeover (spoiler: you and your dentist will ultimately decide).
Offer up a photo of you with your dentist, if he is game.
Ask a friendly dental assistant if they're willing to take video while you are in the dentist's chair.
Post a before and after comparison and watch the compliments flood in.
Don't give online trolls any opportunity to dog your smile. When you get cosmetic dentistry with NYC cosmetic dentist Dr. Mike Wei, you know your teeth look good. Anyone who says otherwise is just jealous.
Get your smile makeover goals in line with your influencer goals. They're a perfect pair. Schedule a consultation with Dr. Wei and get on the road to social media domination.