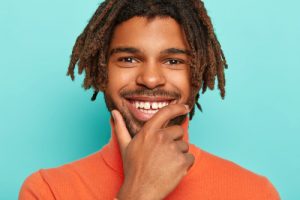 Gapped teeth are one of those characteristics that people either love or hate. Some people embrace a gap between their front teeth, others are embarrassed by the many gaps that plague their entire smile. A smile makeover can fix whatever you dislike about your teeth, closing gaps with minor or major cosmetic dentistry treatments.
Reasons to Get (or Not Get) a Smile Makeover for Tooth Gaps
Ultimately, it's up to the person with gapped teeth whether they "should" get a smile makeover. Your dentist, however, will have opinions and food for thought that you'll want to mull over as you consider your options:
Stay unique: Gapped front teeth are a quirk that give you a memorable smile. You may not want to eliminate this unique part of yourself if your oral health and alignment are otherwise in good condition.
Correct your alignment: Some tooth gaps are all through a person's mouth, giving them a set of teeth that make them look childish. Closing these gaps will create a sophisticated, healthy smile.
Protect your teeth: There are patients who have gapped teeth that also protrude in atypical directions, and in situations like this a smile makeover is always recommended. You don't want to break or damage a tooth because it's out of alignment.
Cosmetic Dentistry Treatments for Correcting Gapped Teeth
There are several options for correcting gapped teeth, and they don't all have to do with orthodontics. Many people drag their feet about talking to their dentist about their tooth gaps because they want to avoid anything having to do with braces. Cosmetic dentistry makes many fixes quick and easy.
Dental bonding: This 30-minute procedure is non-invasive and can make your gap disappear in just one visit to you Manhattan dentist.
Microthin veneers: If you have several gapped teeth as well as short teeth or other aesthetic complaints, Microthin veneers can conceal every imperfection and give you a flawless smile.
Invisalign: For those who do need some sort of orthodontic intervention, Invisalign is the way to go. These clear aligners are discreet and they consistently and gently shift teeth into alignment, closing all the gaps along the way.
Porcelain crowns: Sometimes, there is one tooth that has just a little too much space around it. Filling in those gaps can be as easy as getting a customized porcelain crown. This robust solution gives you a whole tooth that isn't too small or too big but just right for completing your smile.
Get a Smile Makeover from NYC Dentist Near Me
The type and extent of your gapped teeth, as well as your discomfort with that characteristic, will significantly influence whether you're a good candidate for a smile makeover. If you're worried that your tooth gaps will compromise your oral health over time, or you're tired of being embarrassed and self-conscious about the spaces in your smile, it's time to schedule a consultation with Dr. Michael J. Wei, NYC cosmetic dentist. Visit him at his Midtown Manhattan dental office to find out what kind of smile makeover is possible for your unique teeth.