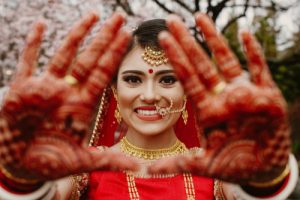 The pandemic left many couples repeatedly postponing their weddings or canceling their celebrations entirely. Now that life is tiptoeing back to some normalcy, big weddings are primed to reign again. If you want to have everything accounted for on the big day, make sure you've budgeted for a smile makeover for you and your partner.
Look Perfect on Your Wedding Day
Wedding planning site The Knot anticipates that 2.6 million weddings will happen in 2022, up from 2.2 million in 2019, pre-pandemic. Not only will there be more weddings, they will be bigger and more expensive.
Whether you're planning on a small, outdoor wedding or a large indoor event, all weddings have one thing in common: There will be pictures and videos taken all day long. No matter what, you want to look your best on your wedding day – especially if you've waited a very long time for it to arrive because of the pandemic. Perfection begins with flawless teeth.
Determine Your Smile Makeover Timeline
October 22 has emerged as the most popular month and day for weddings in 2022. It's a date many have already chosen and those who have yet to set a date are circling. Here's the good news: You have plenty of time to get a smile makeover long before the tenth month of the year rolls around.
Teeth whitening: Professional teeth whitening takes an hour in your Manhattan dentist's office. Unless you're jetting off to a destination wedding, you can schedule to have this cosmetic dentistry treatment taken care of within days of your wedding so your smile is in tip-top bright shape for rehearsal dinners, bachelor or bachelorette parties, and more.
Microthin veneers: If you are all about perfection from head to toe, and the current state of your teeth are stressing you out, then porcelain veneers may be the smile makeover of choice. Your dentist can conceal multiple smile complaints and problems with one procedure, including small teeth, a gummy smile, chips, cracks, stains, misalignment, and more. Microthin veneers usually take two dental visits, so start talking to your cosmetic dentist now so your teeth are ready for the big day.
Cosmetic tooth bonding: If you have a tight timeline, tight budget, or both, you still have room to perfect your smile. Cosmetic tooth bonding is meant to fix the little problems that mar your smile. One stained tooth, one misshapen tooth, obvious chips, unsightly gaps – issues like these can be corrected in a 30-minute dental visit so your smile is like new for your big day.
What Kind of Smile Makeover Is Right for You?
Whether you're finally getting married after waiting too long through Covid, getting married a second time and celebrating with the big party your love deserves, or whether you're just happily making your way to the altar on a normal timeline, you'll always be glad you made a smile makeover part of your prep.
Schedule a consultation with Dr. Michael J. Wei, respected and experienced cosmetic dentist in Midtown, to find out what kind of smile makeover is right for you. There's something for everyone – just like there's someone for everyone.