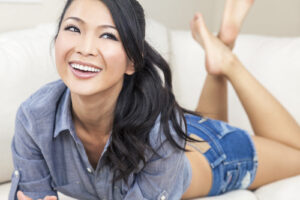 Veneers are available in different formulations and there's one that's right for every patient who's interested in getting a smile makeover. Microthin veneers have become a popular, in-demand option for many people who want minimally invasive cosmetic dentistry that delivers the same amazing results as traditional veneers. The only question is, are Microthin veneers right for you?
What Are Microthin Veneers?
The majority of veneers are made of porcelain, but their composition varies depending on the type of veneer – traditional, prepless, Microthin, DURAthin, chairside. They're all designed to be placed atop natural teeth so your smile can be recreated to be straight, white, and flawless.
What Microthin veneers bring to the table is the following:
Minimal preparation: There is no drilling or reducing of healthy tooth enamel needed to place these porcelain shields. Plus, the characteristics of the veneers make the procedure faster and easier to complete.
Incredibly thin: The veneers are so carefully and meticulously designed and created they fit over natural teeth and eliminate the need for any tooth enamel to be removed. It is important to work with a dentist who is certified and experienced in placing Microthin veneers so the color and translucency are just right and look natural once the veneers are finally in place.
Reversible: You can reverse the treatment later if you want to – though most people don't. When your smile looks this good, there's no reason to change it.
Determine If Microthin Veneers Are Right for You
Only your NYC cosmetic dentist can tell you for certain if Microthin veneers are right for you. This procedure always begins with a complete exam to ensure that your teeth and gums are in the right condition for this procedure. Your budget and lifestyle also play a role and your dentist will discuss all these factors with you to determine what's best too.
If any of the following apply to you, you're automatically in a position to ask your dentist about Microthin veneers. You want to:
Broaden a narrow smile
Enlarge small teeth
Beautify worn teeth
Correct chipped or cracked teeth
Create a more youthful smile
Cover up crooked teeth
Fill in gaps
Conceal stains and discoloration
There's nothing wrong with wanting a perfect smile and with wanting it with as little interference as possible. Microthin veneers make a stunning smile makeover a reality and make it as easy possible for the patient.
Find Out What Veneers Are Right for You
If you're ready to talk about your personalized, customized smile makeover, schedule a consultation with Midtown's Dr. Michael J. Wei, or submit an online Smile Virtual request. Both options get you started down the path to the new smile that's meant to be yours. Be open-minded to the solutions for your new smile. You might have your heart set on one type of cosmetic dentistry, but another procedure or even a couple procedures may be the better option. Dr. Wei is focused on giving you the smile that makes you look your best, whether that's Microthin veneers or otherwise.