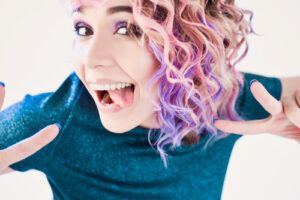 The fabulous thing about smile makeovers is that they are always customized for the patient. In the land of cosmetic dentistry, there is no such thing as one-size-fits-all. Whatever procedure (or procedures) you opt to undergo, everything will be carefully curated to suit your personality and overall appearance and give you a stunning smile.
The Outgoing People Lover
If you are naturally outgoing and you adore being with other people, you probably feel pretty great about yourself as it is. If your teeth are crooked, you shrug. If you have gapped teeth, you brush it off. You already think you're perfect as-is – but if you could change something, perhaps it's the whiteness of your teeth.
Professional teeth whitening is easy, fast, and the best way to spruce up teeth in a minimally invasive way.
It only takes an hour in your Manhattan dentist's office to brighten your teeth and make them several shades whiter.
Even if they are crooked or otherwise flawed, they'll give the illusion of perfection, and you'll be even happier and more outgoing, smiling at everyone.
The Socializer or the Professional
Whether you socialize for fun or for work, getting face-to-face with people one-on-one or in small groups or at large parties means you're being seen. Part of your lifestyle is to be seen regularly, and you love it – so make sure your teeth play the part too. The best thing you can do for your smile is to make it white and perfect, and you don't want anyone to know that you've had any work done but simply think you look better than ever.
Microthin veneers are one path to success.
Barely any prep work is needed so your natural teeth are not tremendously altered and the carefully designed veneers make your teeth look better in size, shape, length, and color.
The result is a broad, beautiful smile you'll want to show off, no matter the social circumstances.
The Quiet One
Just because you prefer to spend time alone or do your own thing, that doesn't mean you don't deserve to have a flawless smile. At some point, you will engage with others, whether that's via Zoom or FaceTime or in person, whether it's coworkers or the neighbors in your building, whether it's your significant other or family.
Boosting your confidence with a smile makeover may just enhance your typical behavior and make you feel more confident about speaking up, going out, and tweaking your lifestyle for a busier existence. It's up to you and your dentist to determine what cosmetic dentistry treatments are best for your smile makeover.
Get a Smile Makeover from Dr. Michael J. Wei in NYC
Smile makeovers are carefully customized, and your NYC dentist Dr. Michael J. Wei only recommends what he believes will be best for your teeth and oral health. The goal is always to create a gorgeous smile that flatters you specifically and enhances your lifestyle and self-esteem.
Feel good about yourself and about your smile. Schedule an appointment with Dr. Michael J. Wei at his Midtown Manhattan dental office to find out what treatments are right for you.