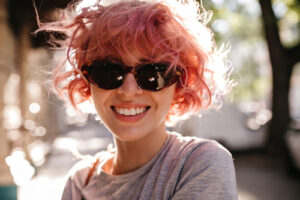 There is never a bad time to get a smile makeover, but fall is always an excellent time to focus on rejuvenating your teeth. This is the season when things begin to close, shut down, and fade away, but your smile doesn't have to be one of them. Enjoy life in Manhattan with a grin on your face that you're proud to reveal, all year long.
A New Season Equals Change
Everything else is changing at this time of year – the weather, the temperature, the number of daylight hours – why not alter your smile too, in a good way? There is no need to wait for the New Year to make a resolution to do something great for yourself.
Getting a smile makeover isn't only about appearances. Yes, you will look like the best version of yourself when you have teeth that are white, shining, and perfectly aligned thanks to porcelain veneers, dental crowns, or other cosmetic dentistry treatments. However, making these upgrades will also affect your self-esteem. How you feel about yourself in fall doesn't have to tank just because the season is darker and quieter. Forget about hibernating – your smile makeover will make you want to come out and show off by supporting your confidence in all areas of your life.
It's Time to Cover Up
Anyone who lives in Manhattan knows that once fall hits, their fashion statements will be less about style and more about warmth and comfort. This is the time of year to begin to bundle up, and that means your smile will be even more prominent, especially if you're drawing attention to your upper body with hats and scarves.
You don't want to hide away your smile just because the time of year has changed. There is so much to look forward to in fall, even if it's just something as simple as finding the perfect pumpkin and lugging it back to your place – an activity that should put a big smile on your face. You might be bundling up your body but you want to always feel good enough to smile. Whether you need full-mouth reconstruction or minor aesthetic upgrades, your smile makeover will be customized to you and you alone.
Getting Ready for the Holidays
Whether you like them or not, whether you celebrate with family or friends, the holidays – from Halloween to Thanksgiving to Hanukkah to Christmas and everything in between – are a time for revelry and, yes, smiles. Plus, the photo-taking! Selfies galore! Your face will be on so many phones and social media too – how's the smile you're displaying to the public?
If you're feeling self-conscious about how your teeth look now and the thought of up-close-and-personal time with pictures fills you with dread, you have plenty of time to do something about it before you hear the first holiday carol.
Schedule a consultation with Dr. Michael J. Wei in NYC to talk about what your smile makeover options are, or submit an online Smile Virtual request to get the new you started.