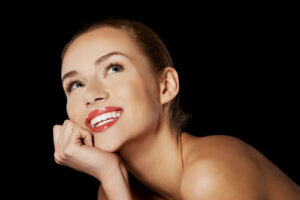 Teeth are white, but so are wedding gowns and they come in blush, candlelight, and a host of other colors. So do teeth, specifically prepless veneers. One shade of white is not all there is when it comes to smiles. If you want a smile makeover using veneers, part of the planning process will involve selecting the right color for your new teeth. Your NYC cosmetic dentist will help you settle on the best white for your unique smile by taking into account several important elements about your current and future smile.
1. Consider Your Natural Teeth
Prepless veneers are super thin. Their composition is what makes it possible to apply these porcelain shields to your teeth without altering the original form. There is no shaving down tooth enamel and the procedure can be reversed should you so desire. This is a major benefit, and a major consideration. The thinness of the veneers means the color of veneer you choose will be influenced by the shade of your natural teeth underneath.
As a result, the final color of your veneers might not be what you thought. Yellowish teeth may need a soft white veneer. Grayish or dark enamel may need more opaque veneers. You might be surprised at the shade you and your dentist ultimately settle upon.
2. Translucency Matters
Translucency is the component that allows a little or a lot of light to pass through the porcelain of the prepless veneers. The level of translucency is responsible for making veneers reflect light and, most importantly, look natural. If you study your teeth in the mirror, you'll see that they aren't dull or flat – and your veneers shouldn't be that way either.
3. All About Value
The brightness of a veneer is known as its value. This characteristic blends with the veneer's translucency to create balance. There are so many components of your new smile that add to the final picture. Evenness in color – influenced by value – is one of those things. Each veneer gets its own special treatment to create a complete and natural-looking smile.
4. Be Flexible About Whiteness
Teeth can be too white. While this may not seem possible when so many celebrities and big names walk around with their super-white teeth, in the real world a smile like this doesn't always look right. The important thing is to get the right shade of white so your teeth look natural. Part of the formula for determining the best color for your veneers is to consider your skin tone, age, and even the whites of your eyes and develop the most flattering smile makeover for you alone.
Customize Your Prepless Veneers
The color of your veneers and the overall customization of your veneers should be a long conversation with your Manhattan cosmetic dentist and a decision that is carefully considered. There are many elements to weigh so your smile comes out the way it's supposed to, beginning with whether you are a good candidate for porcelain veneers. Learn more from NYC dentist Dr. Michael J. Wei. Schedule a consultation at his Midtown office.