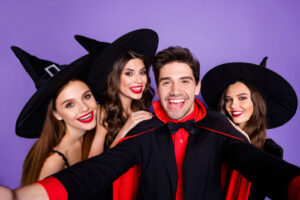 If you have a problem tooth in your mouth that draws far too much attention and interferes with your beautiful smile, it's time to consider how to fix the problem. You shouldn't have to feel embarrassed or self-conscious about a damaged or unsightly tooth when the way to repair it is so simple: Customized porcelain crowns are the permanent costume for teeth that need a cosmetic dentistry boost.
Reset Your Mindset
It's easy to think that porcelain crowns are only for repairing major dental problems, securing dental bridges, or covering a tooth that undergoes root canal therapy. While crowns are certainly put to work for these very circumstances, they play a major cosmetic dentistry role too.
One crown can do all the work you need to transform your smile from flawed to flawless. If you have a prominent front tooth that is short, small, gapped, stained, or just plain different from its neighbors, you can cover it up with a customized crown. In just two dental visits, your smile will be completely different – and you'll never want to conceal it ever again.
Crowns Can Work on Almost Any Tooth
Every patient's oral health needs are different and your reason for requesting a crown may be cosmetic or restorative but, ultimately, a crown can work on nearly any tooth and you'll gain the aesthetic benefits from it no matter what.
Your Manhattan cosmetic dentist will examine your smile and present you with all the possible options that can correct the problem you have going on. Some patients might benefit from one porcelain veneer or teeth whitening or tooth-colored fillings, but many will opt for the most robust correction – a carefully customized porcelain crown.
Versatile Porcelain Crowns
You may be surprised if your NYC cosmetic dentist recommends a porcelain crown as a dental repair for the problem you're experiencing, but this solution can fix so many things:
Fill gaps and spaces
Repair cracks or chips
Restore misshapen teeth
Correct fractured teeth
Cover damaged teeth
Whiten stained or discolored teeth
Protect weak teeth
The tooth you may have never thought fixable can be corrected in no time, and you'll never have to try to conceal it in photos or behind your hand. You'll never have to avoid speaking up or smiling. Crowns cover what you don't like and do it permanently.
Types of Dental Crowns
Just like you get to pick your Halloween costume every year, you also get to select the type of crown you want for your smile makeover.
All-porcelain crowns: Popular, all-white, and ideal for any patient with a metal allergy, this solution is often called all-ceramic and it looks good and is incredibly sturdy.
PFM crowns: Porcelain fused to metal crowns have a porcelain exterior and metal interior. Super-strong, the porcelain is color matched to the rest of your teeth.
Ceramic zirconia crowns: Metal free and designed to match your natural tooth color, these crowns are strong and fracture resistant.
Ready to give your problem tooth a permanent costume? Schedule a consultation with Dr. Michael J. Wei at his Midtown office.