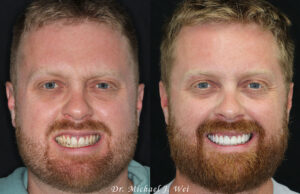 Andrew did not like the aesthetics of his smile. Old dental work, unsightly teeth, and undesirable features convinced him it was time to pursue a customized smile makeover. Dr. Michael J. Wei performed an incredible NYC smile makeover for Andrew that resulted in a flawless smile and reinvigorated his life. Find out how it happened.
Andrew's Smile Makeover Story
Andrew had several problems with his smile and wanted a cosmetic dentistry upgrade to transform his teeth and appearance. Here are the elements he disliked:
Two old anterior porcelain crowns with decay and dark lines around the margins.
Discolored, dull, and misaligned teeth.
The color of his teeth.
The shape and size of his teeth.
Andrew also had spaces between his teeth, uneven gums, and teeth that were not proportional. Some dental problems develop over time, but most people are simply not born with a perfect smile. It takes the practiced hand of a meticulous NYC cosmetic dentist to create a flawless smile that looks completely natural. Thanks to Dr. Wei's experience and knowledge, Andrew ended up with the following:
A fuller, whiter, straighter smile.
Two porcelain crowns.
Eight minimal-prep porcelain veneers.
Customized Cosmetic Dentistry for a New Smile
It took only three visits to Dr. Wei for Andrew to get a smile makeover. The smile gallery shows stunning before and after photos of his transformation. The cosmetic dentistry procedures that were included in his smile makeover are as follows:
Porcelain veneers: There are several types of veneers available. Ideally, the least-invasive option is the best choice because it delivers the look a patient wants without dramatically altering their natural teeth underneath the veneers. Minimal-prep veneers require the least amount of prep to get teeth ready for their makeover. Eight is a generous number of veneers that dramatically alter the look of top teeth.
Porcelain crowns: Crowns are one of the most versatile restorative and cosmetic dentistry treatments. They can replace old, broken-down crowns while also being used to address chips, cracks, fractures, gaps, spaces, weak teeth, discoloration, and misshapen teeth.
Gum lift: A laser gum lift turns a gummy smile into a proportionate smile so there is just the right amount of enamel and gum tissue showing. Precise and accurate, this procedure creates an amazing symmetrical smile.
Tooth-colored fillings: Tooth-colored fillings use a safe, composite material to correct cavities and conceal small dental imperfections.
The entire smile upgrade gave Andrew a beautiful new smile that brightened his face and, most importantly, he loves the results. The changes to his teeth have increased his self-confidence. Now, he gets compliments on his gorgeous smile all the time.
Take a Smile Makeover Journey
Andrew's life was transformed by a smile makeover. You can experience the same amazing feeling by getting customized cosmetic dentistry that makes you want to smile. Schedule a consultation with Dr. Michael J. Wei in NYC to learn more about what's right for your oral health or submit an online Smile Virtual request to get started on your journey.