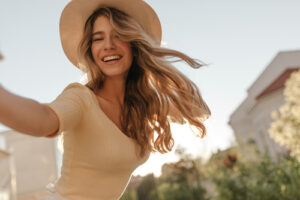 Every season of the year is notable in New York City. Spring is noteworthy because this is when people can't wait to spend as much time as possible outdoors. The flowers and trees are blooming, the streets are full, eating outdoors is a possibility, and you simply want to feel as good as the world looks. Get there with a perfect smile customized by your NYC cosmetic dentist.
Ways to Create a Perfect Smile in Springtime
There is no shortage of cosmetic dentistry treatments for transforming your smile. The most important things you have to ask yourself is what part of your teeth you're dissatisfied with and what your comfort level is for transforming your smile. Here are just some of the most popular ways people make a change, both big and small:
Teeth whitening: The fastest and most effective way to brighten a smile is with professional teeth whitening that bleaches tooth enamel multiple shades whiter. Even if your teeth aren't perfect, the whitening creates the illusion of a perfect smile and does so in about an hour.
Porcelain crowns: If you have problem teeth that have always marred your smile – oddly shaped, small, stained, or otherwise – you can have them capped with porcelain crowns that blend into your enamel and perfect your smile.
Porcelain veneers: When you get NYC veneers, there are several options – conventional veneers, Microthin veneers, prepless veneers. All are customized to conceal the imperfections on your natural teeth and turn your smile into a flawless, symmetrical version of itself.
Why Spring Is the Right Time to Get a Smile Makeover
Any time of year is a good time to invest in a smile makeover from your NYC cosmetic dentist, but spring is an especially ideal time to make a transformation:
Get ready for summer: You want to look your best as the sun shines and the nighttime festivities glow, as you have a staycation or go abroad to suck up some culture in new places. Summer is all about feeling free and knowing your smile looks great as you enjoy life will make this season even better.
Debut a new you online: Whatever your social media platform of choice, photos and videos are a big deal. Your followers are paying attention to every part of you whether you like it or not, so make your teeth shine with perfection.
Increase self-esteem: This time of year, when you're emerging from the cocoon of winter and all the clothes that go with it, can be tough on the self-esteem. Maybe you're carrying a few extra pounds from comfort foods. Upgrade your smile and your face will shine and you'll feel incredible about your appearance no matter what other tweaks you think need to be made.
Get a Perfect Smile from Your NYC Cosmetic Dentist
Unhappy with your teeth and smile? Now is the time to act. Schedule a consultation with NYC cosmetic dentist Dr. Michael J. Wei in Midtown to find out what cosmetic dentistry is right for you or submit an online Smile Virtual request to get started.