Franklin had spacing and damaged teeth. His smile was worn out and he was concerned about the discoloration and faulty restorations. He wanted a smile makeover to restore back his confidence. We were able to give him a brand new smile with porcelain crowns and veneers. He was absolutely ecstatic about his new smile and was very grateful to us for his smile makeover. He attended his cousin's wedding with a brand new sense of confidence.
Problems
Bad Bite
Cavities
Discolored Teeth
Flared Out Teeth
Fractured Restorations
Midline Off
Misaligned Teeth
Old Faulty Dark Bondings
Old Faulty Fillings
Spaces Between Teeth
Teeth Not Proportional
Tooth Decay
Uneven Smile
Worn-Out Smile
Solutions
Porcelain Crowns
Porcelain Veneers
Tooth-Colored Fillings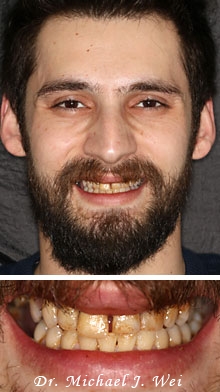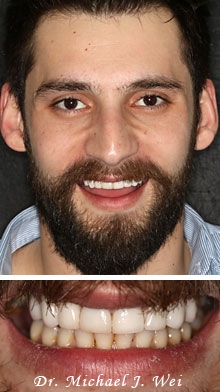 Slide the blue tab to the left or right to view the before and after images.