Ivy came in knowing that she needed a lot of dental work but was apprehensive about undergoing all the treatments. We were able to work slowly with her and at a pace that she was comfortable with. We customized a treatment plan that made sense to her and we got her mouth healthier. She now has a gorgeous beautiful smile that she is extemely proud of. She gets compliments all the time even from strangers.
Problems
Bad Bite
Cavities
Crooked Teeth
Crowded Teeth
Damaged Fractured Teeth
Dark Line Around Tooth
Discolored Teeth
Flared Out Teeth
Misaligned Teeth
Old Faulty Porcelain Crowns
Overlapping Teeth
Reverse Smile
Rotated Tooth
Short Small Teeth
Silver Mercury Fillings
Teeth Not Proportional
Tooth Decay
Uneven Gums
Uneven Smile
Worn-Out Smile
Solutions
Dental Implants
Laser Gum Reshaping
Porcelain Crowns
Porcelain Veneers
Tooth-Colored Fillings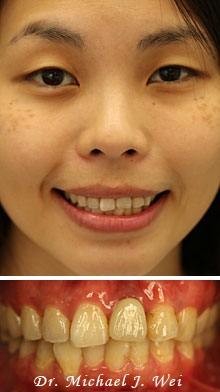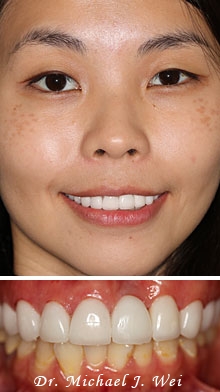 Slide the blue tab to the left or right to view the before and after images.