Luis was concerned with his dark, stained, fractured front teeth and how his smile looked. He never liked his front teeth and puffy bleeding gums. He was always embarrassed to smile. He wanted a nicer, whiter, brighter, and gorgeous smile. We were able to give him a brighter and whiter smile to boost his confidence with 20 porcelain veneers and 4 porcelain crowns. Now he looks great and feels confident with a brand new smile makeover. He can smile easily and loves to show his new amazing, brighter, and whiter smile.
Problems
Cavities
Damaged Fractured Teeth
Discolored Teeth
Fractured Restorations
Gum Disease
Gummy Smile
Misaligned Teeth
Old Faulty Dark Bondings
Old Faulty Fillings
Short Small Teeth
Silver Mercury Fillings
Teeth Not Proportional
Tooth Decay
Uneven Gums
Uneven Smile
Worn-Out Smile
Solutions
Laser Gum Reshaping
Porcelain Crowns
Porcelain Veneers
Smile Makeover
Tooth-Colored Fillings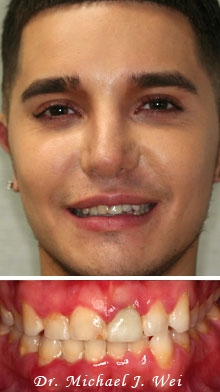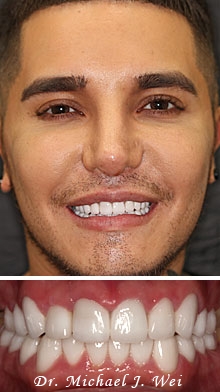 Slide the blue tab to the left or right to view the before and after images.