Majlinda came to us with multiple problems. She had unhealthy teeth, old faulty restorations that were in poor condition, and an uneven smile. She had researched us online and knew that we were the one who would be able to help her. Ever since she was young, she had been to many dentists but none were able to give her the smile she wanted. We were able to transform her and give her a new healthy, beautiful, and bright smile. Her gorgeous results have garnered many compliments and also new referrals!
Problems
Cavities
Dark Line Around Tooth
Discolored Teeth
Enamel Defects
Fractured Restorations
Old Faulty Dark Bondings
Old Faulty Fillings
Old Faulty Porcelain Bridges
Teeth Not Proportional
Tooth Decay
Uneven Gums
Uneven Smile
Worn-Out Smile
Solutions
Laser Gum Reshaping
Porcelain Bridges
Porcelain Crowns
Porcelain Veneers
Tooth-Colored Fillings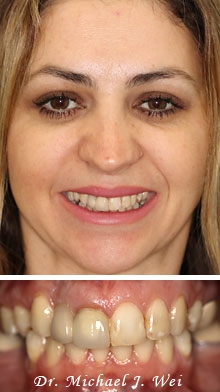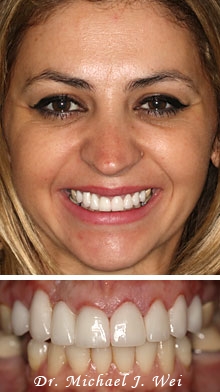 Slide the blue tab to the left or right to view the before and after images.