Marlyne always dreamed of having a beautiful gorgeous smile ever since she can remember. She had the desire since she was a child. She used to walk around embarrassed of her smile. She doesn't like the different sizes, discolorations, and spaces between her teeth. Now she has more confidence and can smile easily. She loves to show her new amazing smile. We were able to give her the smile of her dreams.
Problems
Baby Teeth
Bad Bite
Crooked Teeth
Dark Tooth
Discolored Teeth
Misaligned Teeth
Missing Teeth
Short Small Teeth
Spaces Between Teeth
Teeth Not Proportional
Tooth In Wrong Position
Uneven Smile
Worn-Out Smile
Solutions
Porcelain Crowns
Porcelain Veneers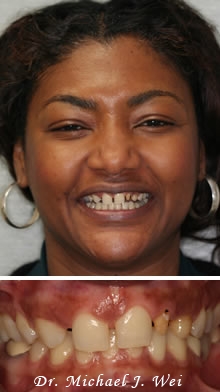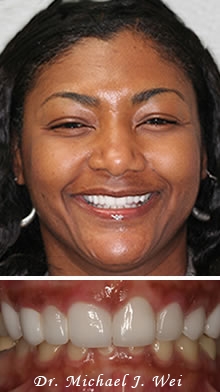 Slide the blue tab to the left or right to view the before and after images.