Sandra presented with a defect in her smile. She was missing a front central tooth and therefore other teeth had shifted into that space which caused gaps and the midline to be completely off. She never liked her smile and was embarrassed about it all her life. She wanted a smile transformation. Sandra's case was very difficult but we were able to give her a beautiful smile that she always wanted and she loves the results!
Problems
Bad Bite
Discolored Teeth
Flared Out Teeth
Midline Off
Misaligned Teeth
Missing Teeth
Rotated Tooth
Spaces Between Teeth
Teeth Not Proportional
Tooth In Wrong Position
Uneven Gums
Uneven Smile
Solutions
Laser Gum Reshaping
Porcelain Bridges
Porcelain Veneers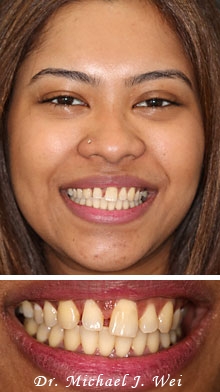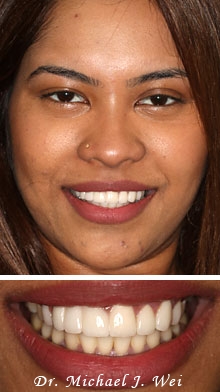 Slide the blue tab to the left or right to view the before and after images.