Want to change your life? Give your teeth a makeover.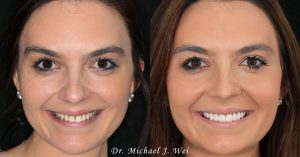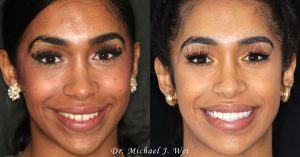 Are you tired of being embarrassed by bad teeth? Maybe you feel judged because your teeth are: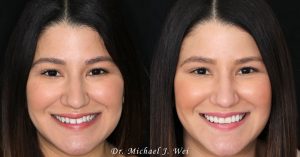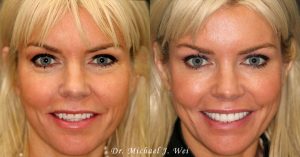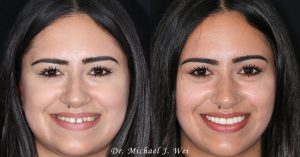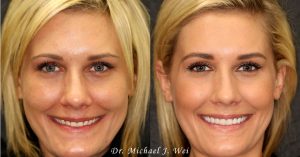 Stained
Chipped
Broken
Crooked
Worn
Short
Gapped
Fix your teeth with one procedure: porcelain veneers.
The benefits of porcelain veneers:
Custom-designed.
Look and feel like natural teeth.
Last for decades.
Fix multiple problems at one time.
Stain resistant.
Get the perfect smile you've always wanted.
Veneers improve the function and comfort of your smile:
Protect tooth structure.
Strengthen weak teeth.
Correct TMJ problems.
Most of all, veneers make you look:
Younger
Happier
Healthier
Smarter
Important
Pick the best veneers for your teeth and budget.
Porcelain veneers require a minimal amount of enamel to be removed from each tooth.
Prepless veneers involve little to no special prepping of teeth, just light sanding and cleaning.
Cerinate Lumineers are the least-invasive way to upgrade your teeth and require little prep.
They are all made of super-thin (like contact lenses), super-strong porcelain that blends with your natural tooth color to create a bright white, flawless, natural-looking smile.
Yes, you CAN afford porcelain veneers.
The total price tag of your treatment will depend on:
How many veneers you get.
The material used to make your veneers.
The dental lab used to create your veneers.
The current condition of your teeth.
No-interest financing from CareCredit or Lending Club make it possible to invest in your smile without destroying your budget.
Take and post selfies you LOVE. No filters. Just flawless teeth.
Veneers will give you the confidence to:
Speak up.
Flirt.
Smile for pictures.
Introduce yourself.
Be assertive.
Veneers are the way to a celeb smile.
Veneers are a powerful cosmetic dentistry treatment that will last for decades and make you look like a VIP. Make your appointment with Manhattan dentist Dr. Michael J. Wei at his Madison Avenue dental office to find out whether you are a good candidate for veneers. Change your life – now.

"Porcelain tooth veneers" are thin shells of handcrafted dental porcelain that are fitted over front teeth to repair smiles and bites. The porcelain veneer treatment usually involves just two visits and is completely painless:
First, Dr. Wei examines your teeth and considers your existing dentition and bite, as well as your skin tone, age, facial features, length of your teeth, tooth color, tooth shape, bone structure, face shape and facial symmetry. During your first visit,  many times he will take impressions for a diagnostic wax-up. This is used as a blueprint for your final smile – something you can visualize.  The next visit, the teeth are minimally prepared by removing a small portion of enamel about 0.3 mm – 0.5 mm to allow for the thickness of the veneers and to ensure a strong seal. An impression is then taken and prepared to send to the lab where the porcelain dental veneers will be created. Then  a trial smile (temporary veneers) will be made to give you a "test drive" of your new smile.  This unique step allows patients to test drive their new improved smile. After wearing the temporary veneers, the patient returns a day or two later to provide feedback on the look, fit, shape, size, and color of their temp. Using this feedback and at this time, Dr. Wei can make changes to your smile before the permanent veneers are bonded to the teeth. Your new porcelain dental veneers are usually returned to our office within two weeks.
The last visit is when the temporary veneers are removed and the new porcelain veneers are temporary placed on the teeth to determine that they are the right size, shape, color, translucency, look and fit. Once your dentist and you have confirmed that the veneers are just right, they will be bonded to the front surface of each individual tooth with a tooth-colored resin cement. This is done by using a special curing light.  Porcelain dental veneers provide a strong, safe, and durable solution to stained, cracked or crooked teeth.
Before & After
Dan wanted a brighter, whiter, gorgeous smile. He didn't want to get braces to close all his spaces. He used to walk around embarrassed of his smile because of all the gaps between his teeth and the old dark stained discoloration . His new smile improved his overall self-confidence. Now he has the confidence he always wanted. He can smile easily and loves to show his new dazzling, brighter, and whiter smile.
Problems
A Missing Front Tooth
A lot of Space Between Teeth
A Tooth In A Wrong Tooth Position
Teeth Not Proportional
Discolored, Stain, Dull Teeth
Worn-Out Smile
Uneven Smile
Bad Bite
Solutions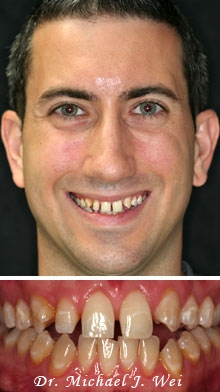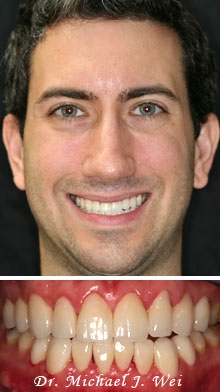 Slide the blue tab to the left or right to view the before and after images.
More Information About Porcelain Veneers
Discover the problems that can be fixed by porcelain veneers and if you are a good candidate for veneers.
Tips on how to care for your new porcelain veneers. Avoid chewing inedible objects and staining liquids.
Learn how to care for your new veneers so they last a long time.
Find our the factors that effect the cost of porcelain veneers.
Prepless veneers require little to no special prepping of your teeth for the right candidates.
Get answers to common questions about porcelain veneers.
Get the latest news about porcelain veneers.
Testimonials from actual porcelain veneer patients.
Videos from satisfied porcelain veneer patients of Dr. Wei.
Call us today at
212-982-4080

for a Consultation, Appointment, or for more information about our Porcelain Veneers or Manhattan and New York City Cosmetic Dentistry Services

Find out why our patients love us. See what our happy patients have to say about our quality dental services and personalized dental care. Read our reviews online at

Google, Yelp, and SmileReminder.
Why Choose Dr. Wei?
A Proven Dentist – Dr. Wei is one of Manhattan's top cosmetic dentists. Dr. Wei's cosmetic dentistry includes world-class laboratory support from the best labs in the world. Dr.Wei is the recipient of numerous awards and accolades.
High Success Rate – Dr. Wei has over 20 years of experience with dental services. Plus, Dr. Wei stands behind his work with a warranty.
Delivery Excellent Results – Dr. Wei has first class technicians and world-class laboratory support. Dr. Wei works very closely with his master dental technicians to ensure you get the best results. Dr. Wei offers the very best quality dental care available.
Easy Financing Available with No Financial Surprises – All financial arrangements are done at our dental office and there will no surprises that cost you more. No hidden costs and no additions after your treatment plan is confirmed and treatment begins.
Fully Warranted – – Dr. Wei will take care of any issues from start to finish. On the rare occasion that a problem should occur, Dr. Wei will fix the problem promptly with no additional fees.
There is usually a follow-up visit for final adjustments, and to review instructions for care of your new smile. Cosmetic dentistry provides a beautiful new smile and last for years and years.
Call us for an appointment:
212-982-4080