Fast Facts About Lumineers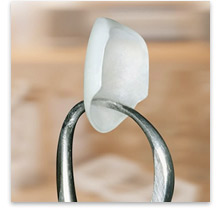 Lumineers by Cerinate have opened the door to an amazing smile makeover for patients who may otherwise have been squeamish about completely transforming their smile. Lumineers have many advantages for many dental patients……………
Lumineers can fix just about any cosmetic complaint.
Just like porcelain veneers, Lumineers correct a host of aesthetic dental complaints including stains, discoloration, chips, gaps, jagged teeth, crowding, misalignment, and short teeth.
You can save time and money by choosing Lumineers.
One cosmetic dentistry treatment, multiple problems corrected. Lumineers are a versatile, long-lasting smile makeover investment that, in one treatment, can take the place of multiple aesthetic enhancements, such as teeth whitening, porcelain crowns, Invisalign, or cosmetic tooth bonding.
Lumineers are as thin as it gets.
Any dental patient getting a smile makeover dreads the thought of ending up with teeth that will look fake. Lumineers are super-thin, as thin as contact lenses. They fit flawlessly over teeth when applied by an experienced NYC cosmetic dentist.
Each Lumineer is customized.
Not all your teeth look the same, so all your veneers may look slightly different too. The natural state of your teeth are carefully considered so the color, size, shape, and translucency of the veneer are designed to blend seamlessly for a flawless, natural-looking smile.
Lumineers require little to no preparation.
Traditional porcelain veneers require that some tooth enamel be drilled down to make room for the veneer. Lumineers, however, require minimal preparation – usually just a dental cleaning and light sanding – and tooth structure is preserved. This easy prep means you don't have to wear temporary veneers while waiting for your Lumineers to be created.
Lumineers are non-invasive procedure.
Because the prep for Lumineers is so slight, there is no need for local anesthesia. That means no needles, no injections, no drills, just patience for your singular smile to be bonded in place. This non-invasive procedure is ideal for patients with dental anxiety.
Lumineers are reversible.
All types of veneers, including Lumineers, are bonded permanently to your teeth. It's so important to choose an experienced and respected Manhattan cosmetic dentist to place your veneers so the bonding is impeccable and natural teeth remain healthy underneath the Lumineers. Should you ever choose to reverse your Lumineers procedure, it can be done since your teeth have not been dramatically edited underneath the porcelain shells.
Lumineers do have some pre-qualifications.
To get Lumineers, your teeth, gums, and bite must be healthy. The existing color of your teeth will impact how the final Lumineers will look and if this procedure is most appropriate for your smile goals. Your dentist will give you a thorough dental exam before recommending any cosmetic dentistry so that you know exactly what is and isn't possible for your smile.
Be prepared for the Lumineer final product.
Because Lumineers are so thin, the color change to your teeth will be limited. This factor means the Lumineers may not look quite as natural as porcelain veneers would. Teeth will be beautifully white, but the shade will be more opaque than translucent and less light-reflective than porcelain veneers.
There is a perfect smile makeover for everyone.
Lumineers are life-changing. When you have a beautiful smile and gorgeous teeth, you will look younger, happier, healthier, smarter, and like the VIP you know you are. Even if Lumineers are not the right choice for your upgrade, there are other cosmetic dentistry procedures that may be better.
If you have an interest in Lumineers, your NYC cosmetic dentist will also review the benefits of conventional porcelain veneers as well as prepless veneers. Maybe your smile makeover will include a few different procedures to get you to the desired final product.
All you need is the determination to improve your teeth so they are healthy, strong, and look amazing. Contact Dr. Michael J. Wei at his Midtown dental office to schedule your consultation and discuss your smile makeover.