The Quickest, Most Affordable Way to Restore Your Smile
By Dr. Michael J. Wei, DDS –
Manhattan New York City Cosmetic Dentist
Get a "Smile Makeover" FAST with Snap-on Smile ®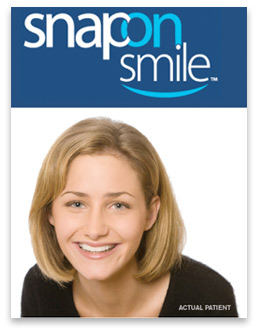 Are you getting married soon, or going to an important event and are too embarrassed to smile? Need a quick and affordable quick smile makeover?
Introducing Snap-On Smile ®, the quickly and fastest way for you to get a beautiful, bright white smile in a hurry! A Snap-On Smile ® is a temporary smile meant to tide you over until you can have your permanent work completed. Snap-On Smile ® can get you a brand-new smile in as little as 2 weeks and it can last for 3-5 years if needed. Best of all, there is no drilling, no shots, and no pain.
Benefits of a Snap-On Smile ®:
Improves Your Smile – Improves appearance of your teeth.
Fast – Your Snap-On Smile ® will be ready in just 2 weeks!
Affordable – A fraction of the cost of porcelain veneers.
Painless – No shots, no surgery, no adhesives, no worries!
Convenient – You can eat with them, and they're easy to care for.
Confidence – You'll want to show the world your new smile!
This video will show the benefits of Snap-On Smile ®
How a Snap-On Smile ® Works:
Your first visit will include a brief consultation at our cosmetic dentistry office to determine your goals for your smile and answer all of your questions.
After that, you can choose from different smile tooth shapes and shades for your Snap-On Smile ®.
Then we'll take photos and impressions of your existing teeth and prepare your data for manufacturing your own custom Snap-On Smile ®.
In about 2 weeks your Snap-On Smile ® will be ready for you and we'll show you how to snap it in and you can wear it home.
Before and After Snap-On Smile ®:

Best of all, this process is quick and painless and your new Snap-On Smile ® will change your smile and your life… in a snap!
Dr. Michael J. Wei, DDS is a Top-Ranked Manhattan Cosmetic Dentist who will provide you with a beautiful new Snap-On Smile ® Makeover in as little as 2 weeks! Contact us today for a free consultation to learn more about how our experience, training and technology can be used to create your beautiful Smile Makeover.
Call us today at
212-982-4080
for a Consultation, Appointment, or for more information about our Snap-On Smile ® or Manhattan and New York City Cosmetic Dentistry Services
To find out why many patients love and choose Dr. Wei click on the following link:
Find out why our patients love us. See what our happy patients have to say about our quality dental services and personalized dental care. Read our reviews online at
Google, Yelp, and SmileReminder.