Visit NYC Cosmetic Dentist Dr. Michael J. Wei on Madison Avenue for Your Perfect Smile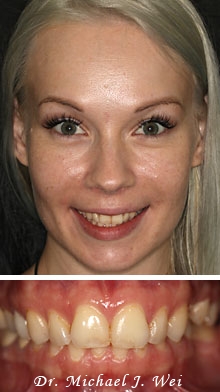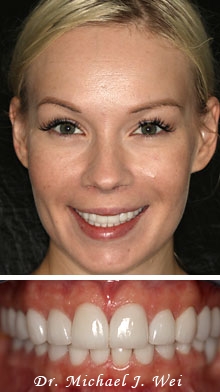 Slide the blue tab to the left or right to view the before and after images.

You can find any number of cosmetic dentists in Manhattan, but there is only one cosmetic dentist who is right for you. Don't settle for anyone less than an experienced professional who is dedicated to perfection and has the expertise to deliver what is promised: a flawless, natural-looking smile. Choose NYC cosmetic dentist Dr. Michael J. Wei to create your perfect smile makeover.
Versatile Cosmetic Dentistry Procedures
Every cosmetic dentistry procedure should enhance the appearance of your teeth while allowing them to look completely natural. Each detail of cosmetic dentistry is important to the whole, with size, shape, color, translucency, and alignment contributing to the final smile.
Not every patient is eligible for every cosmetic dentistry procedure, but there are some treatments that your NYC cosmetic dentist can use to correct multiple problems at the same time, shortening the amount of time you spend in the dentist's chair, and reducing the cost of your smile makeover. These include:
Porcelain veneers: Veneers are perhaps one of the most comprehensive cosmetic dentistry procedures available. They can correct several aesthetic complaints at one time, leaving behind a complete and stunning smile. With veneers you can correct misalignment, gaps, stains, chips, and much more.
Porcelain tooth crowns: When you have a broken tooth that needs to be repaired, porcelain tooth crowns are a robust and reliable option. Along with building the tooth back up to a functional size and shape, the crown restoration is designed to blend with your other teeth and look completely natural.
Porcelain inlays and onlays: Just like porcelain inlays and onlays are not only used to repair decayed teeth, they can be used to repair damaged teeth, chips and cracks and gapped teeth
Porcelain Fixed Bridges: When you have one or more missing teeth a porcelain fixed bridge can close the gap with porcelain crowns as anchors on either side.
Dental Implants: The permanent solution to replace missing teeth.
Minimally Invasive Improvements from Your NYC Cosmetic Dentist
While some patients want versatility, others want minimal to no discomfort when it comes to dental procedures. Cosmetic dentistry treatments are optional, so most people who choose these options are prepared for the dental work. There are still individuals who must move past their anxiety to make their smile makeover a reality. Sedation dentistry is one way to calm the nerves so that procedures can be done more easily and efficiently.
To help stressed out patients who want a new smile without a lot of time or invasiveness, the following cosmetic dentistry treatments can get the job done:
Cerinate Lumineers: The less-invasive version of porcelain veneers, Lumineers do not require intensive tooth preparation for the Lumineers to be bonded in place. Because the veneers are super-thin.
Make Dr. Michael J. Wei Your NYC Cosmetic Dentist
Dr. Michael J. Wei is an experienced NYC cosmetic dentist, well-respected among his peers, colleagues, and patients for dedication to his craft and furthering his education. Every smile makeover Dr. Wei creates is customized to the patient and respectful of their individual needs. Gentle dentistry is a hallmark of Dr. Wei's work; it is his goal to ensure that every patient feels comfortable, has all their questions answered, knows all viable cosmetic dentistry options, and is fully prepared to undergo their unique smile makeover and enjoy the long-lasting and life-changing results.
Dr. Wei's office is conveniently located on Madison Avenue in Midtown. Make your appointment with lauded New York Top Dentist and America's Top Dentist. Schedule a consultation today.