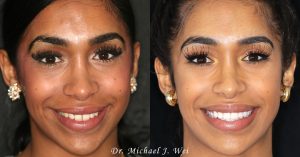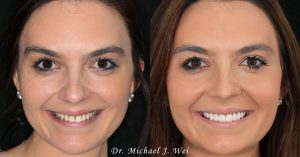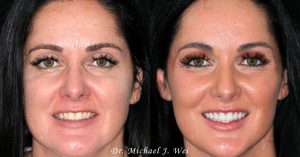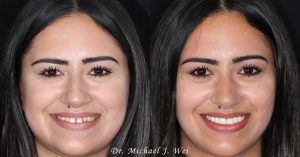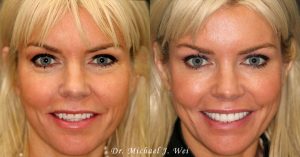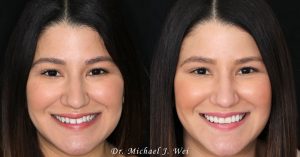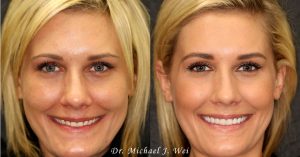 Choose Full-Mouth Reconstruction for a Strong, Beautiful Smile
By Dr. Michael J. Wei, DDS – Manhattan New York City Restorative Dentist
Full-mouth reconstruction involves a combination of restorative dentistry, cosmetic dentistry, and neuromuscular procedures. Together, these treatments rehabilitate teeth and gums, creating a new and improved smile in both appearance and function. Dr. Michael J. Wei is a Midtown Manhattan restorative dentist who has the experience and expertise to rebuild your oral health into a flawless, comfortable smile.
The Customized Full Mouth Reconstruction
Full-mouth restoration could be classified as a smile makeover, since a smile makeover is a collection of the procedures that make your smile look beautiful. The "restoration" part of full-mouth reconstruction ensures that your teeth, bite, and jaw all work together properly so your smile is structurally sound and moves and works properly. Once your gums and teeth are clean, healthy, and fully functional, the cosmetic portion of your full-mouth reconstruction can begin.
Your dentist will discuss all the treatments that can be part of your full-mouth restoration. Procedures can include gum disease treatment, dental implants, porcelain crowns, fixed dental bridges, root canal therapy, tooth extractions, cavity repair, teeth whitening, and porcelain veneers. This list is not exhaustive, however. Your individual reconstruction plan could also include orthodontic treatment, inlays or onlays, dental bonding, or TMJ treatment.
Here is what you need to know about full-mouth reconstruction:
Completely customizable. Whether you need a dozen procedures or two procedures, your full-mouth restoration is unique to you alone.
Repair and replace. One of the few things that all full-mouth reconstruction procedures have in common is the repair and/or replacement of a large number of teeth. For this reason, dental implants and dental bridges figure prominently as restorations.
Healthy inside and out. Your New York City dentist will not begin any restorative dentistry or cosmetic dentistry treatments until your teeth and gums are completely healthy. If gum disease treatment, tooth extractions, or root canal therapy are necessary, these procedures will be conducted first to reestablish a healthy foundation so your mouth is ready for the new smile that awaits you.
Be patient. Full-mouth reconstruction takes time. If your gums need to be thoroughly treated for periodontal disease, it will be necessary to tend to this problem and give your mouth time to heal before major restorations can take place. The same patience and healing time will be necessary for dental implants or extractions.
Be committed. Full-mouth restoration is a complicated venture, but if you are determined to restore your oral health, your Midtown Manhattan dentist is too. Dr. Wei is prepared to develop a comprehensive treatment plan to revitalize your oral health using innovative technology and modern dentistry procedures.
Are You a Candidate for Full-Mouth Reconstruction?
You know when your mouth is not in good condition. Chewing confidently is a challenge, loose teeth or lost teeth are common, and pain is a constant. It's safe to say that you could use some dental attention if you haven't been to the dentist for a checkup and exam for a long time.
Some of the most notable problems that could indicate the need for full-mouth reconstruction include:
Broken teeth
Missing teeth
Mouth pain and soreness
Loose teeth
Bleeding gums
Worn teeth
Difficulty eating
Altered speech
Chronic jaw pain
Embarrassment about your teeth
When the foundation of your smile has been compromised, there is no waiting it out and hoping the problem will get better. It won't. If you are experiencing any of the above symptoms or other discomfort and worry about your teeth and gums, you need the attention of a New York City restorative dentist.
The good news is that your dentist has seen everything when it comes to oral health problems. There is no measure of disrepair, gum disease, tooth stains, or broken teeth that your dentist has not addressed in other patients – and he is not there to judge the state of your mouth. He is there to make your journey to a new smile as easy, effective, efficient, and long-lasting as possible.
Allow Yourself to Have a Beautiful Smile
There are many reasons people have tooth and gum problems, whether you have been without dental insurance, thought you could not afford dental care, suffered an injury, or are living with poor dental work. All your Manhattan dentist wants to do is ensure that your smile, no matter how damaged it is now, becomes new again.
If you are concerned about how involved full-mouth reconstruction can be, remember that sedation dentistry is a viable and recommended option for qualified patients. Being able to "sleep" through your procedures makes the work easier for you to endure, and makes it easier for your restorative dentist to carry out multiple procedures at one time.
Full-mouth reconstruction not only gives you the smile you've long wanted and improved dental health, your overall well-being will get a boost and your confidence will increase when you know that your smile looks good.
Any restorative or cosmetic dentistry procedures are an investment in your present and future. A new smile can make you look younger, happier, and healthier. Make your consultation with Dr. Michael J. Wei in Midtown Manhattan to discuss your oral health and find out what your full-mouth reconstruction options are. There is no wrong time to get on the road to good oral health and a gorgeous smile. Contact us today.
To find out why many patients love and choose Dr. Wei click on the following link:
Find out why our patients love us. See what our happy patients have to say about our quality dental services and personalized dental care. Read our reviews online at
Google, Yelp, and SmileReminder