No-Prep Microthin Veneers from Midtown Cosmetic Dentist

One of the biggest concerns patients have when considering porcelain veneers is the lasting damage the procedure could do to their teeth. Microthin and DURAthin veneers, however, have changed the landscape of dental veneers, eliminating the need for enamel to be removed. Dr. Michael J. Wei is one of the few certified providers of no-prep Microthin and DURAthin veneers in Midtown Manhattan.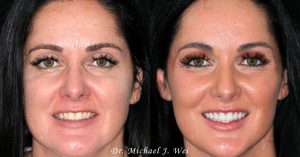 What Are Microthin Veneers?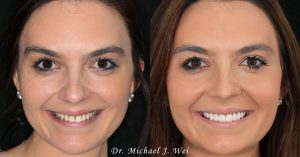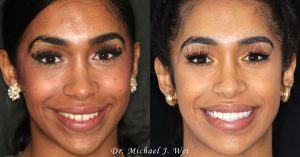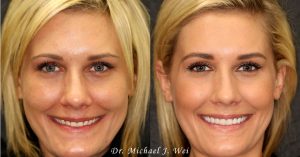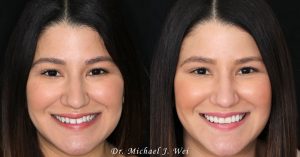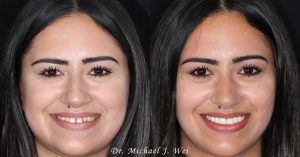 All veneers are designed to be placed on top of natural teeth to create a complete, flawless smile. Certain types of veneers, however, require that drilling or reduction of healthy tooth enamel be done to make room for the veneers. Not Microthin veneers. This cosmetic dentistry procedure is the best of all worlds.
Microthin and DURAthin veneers are made of incredibly thin porcelain, which means they seamlessly and snugly fit over natural teeth and eliminate the need for tooth enamel removal. This not only makes the procedure faster and easier to complete, but it allows for the possibility of reversing the procedure later should you so desire. The safe bet, however, is that your teeth will look so amazing with the Microthin veneers that you will never want to change your smile makeover after it's complete.
Microthin veneers are custom-made to adhere directly to the front of the teeth, perfecting them in size, shape, and color, without altering the teeth in any way to prep them for the cosmetic dentistry work. The approach is revolutionary and the Microthin smile makeovers are life-changing.
Are You a Good Candidate for Microthin Veneers?
Every patient is different. The condition of your oral health and whether you have existing cosmetic dentistry are factors in your smile makeover, as well as your budget and lifestyle. Dr. Wei works with you to determine exactly what procedures can give you the teeth you want. For some patients, their options include Microthin veneers.
Do you want to broaden a narrow smile?
Do you have small teeth?
Do you have worn teeth?
Have you had teeth extracted?
Do you have cracked or chipped teeth?
Do you want a more youthful smile?
Do you have crooked teeth?
If you answer "yes" to any of these questions, you could be a candidate for veneers. Microthin veneers are made of super-thin shells of carefully layered porcelain and cover up every smile imperfection, from stains to chips. The veneers are bonded directly to the teeth, making them look straight and natural, while they are complementary to the shape of your smile and face, your skin color, and even your gender and age.
Find a Certified Microthin Veneers Expert to Complete Your Smile Makeover
As with all veneers, the creation and placement of Microthin veneers requires precision, a high degree of technical skill, and an eye for detail. Dr. Wei is a meticulous cosmetic dentist who is focused on perfection and natural-looking results. He has completed specialized training and earned certification in the development and placement of Microthin and DURAthin veneers so his patients can benefit from this dental innovation.
Microthin veneers may seem like delicate shells but, when bonded to the outer enamel of a tooth, the veneers adopt the strength of that tooth and enhance it with the porcelain. Smile makeovers created with Microthin veneers are incredibly durable, strong, and long-lasting. They are not bulky or thick, but natural-looking and beautiful for true smile upgrades.
Ready to talk veneers? Schedule an appointment with Dr. Michael J. Wei at his Midtown office on Madison Avenue to discuss the many types of veneers that are available and discover what would work best for you. There is a smile makeover that is made just for you – Dr. Wei will help make your smile dreams a reality.