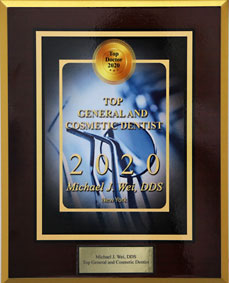 New York City cosmetic dentist Dr. Michael J. Wei has again been named Top General and Cosmetic Dentist for 2020 by USA Top Docs. This merit-based achievement recognizes Dr. Wei among his peers for excellence in his field, both in Manhattan and nationally. It also solidifies his position as a sought-after Midtown dentist who is talented, influential, and prepared to help every patient achieve the smile makeover of their dreams.
Becoming a Top Dentist
Dr. Wei underwent an extensive vetting process to qualify for the Top Dentist honor. This award is only given to a professional who:
Submits a comprehensive questionnaire
Undergoes an in-depth screening process
Is board certified
Has exceptional patient reviews
Has met a minimum number of years in practice
Along with these achievements, Dr. Wei is also committed to personal enrichment to enhance his practice and offerings. He regularly participates in continuing education events and completes advanced training classes from respected dental institutions around the world.
Dr. Wei considers it a privilege to treat each of his patients in his Madison Avenue office and help them find renewed confidence, both personally and professionally, and feel good about themselves thanks to their gorgeous smiles.
"It is an honor and privilege to win this award again, which recognizes the top dentists in the field of general and cosmetic dentistry. I am very appreciative of this recognition," says Dr. Wei.
Comprehensive Dental Care from Dr. Wei
Dr. Wei offers a comprehensive menu of treatments for his patients, including:
Cosmetic dentistry: From porcelain veneers to teeth whitening, no-prep veneers to cosmetic tooth bonding, cosmetic dentistry is designed to make teeth look flawless for every patient. Smile makeovers are customized to the patient so they suit their unique oral health needs – and give them a celeb-worthy smile that renews their confidence and makes them look better than ever.
General dentistry: A strong foundation of oral health is the only way to keep your teeth in good shape and always be prepared for cosmetic upgrades. General dental care includes check-ups and exams, laser gum lifts, gum disease treatment, TMJ therapy, and more.
Restorative dentistry: Whether by age, accident, or general disrepair, teeth that are broken, damaged, or unhealthy can see a second life with restorative dentistry treatments like porcelain crowns and bridges, tooth-colored fillings, dental implants, full-mouth reconstruction, and inlays and onlays.
Choose Dr. Wei as Your Top Dentist
There are many other factors that make Dr. Wei a top dentist besides excellence in smile makeovers. Offerings like sedation dentistry make it possible for so many anxious dental patients to achieve the smiles they want without the fear. Virtual consultations make it possible to think about a new smile without acting on it right away.
Dr. Wei also knows that his success is not achieved alone. Dr. Wei is supported by his amazing team and their commitment to patient care – just one of the many things that make him and his practice one of the top dental offices in New York City.
Make Dr. Wei your Top Doc. Schedule a consultation to discuss your oral health needs with Dr. Michael J. Wei, or submit a Smile Virtual video consultation from your home and get the ball rolling with your smile makeover.