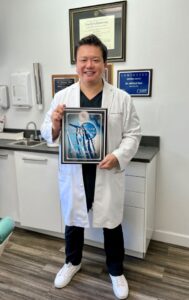 Dr. Michael J. Wei has received the Top General and Cosmetic Dentist Award for 2023 from the Top Doctor organization. This honor recognizes the meaningful contributions a dentist makes to their profession and patients, evidenced by positive patient testimonials and amazing smile makeover results. "I am extremely honored to have won the Top Doctor Award for 2023," said Dr. Wei. "It is an honor and privilege to win this award again, which recognizes the top dentists in the field of general and cosmetic dentistry. I am very appreciative of this recognition."
Top Doc Cosmetic Dentistry Procedures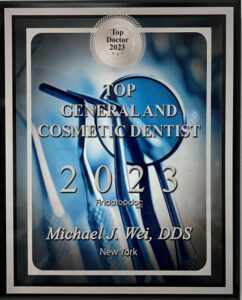 Dr. Wei is well-versed in all elements of general and cosmetic dentistry, but he is especially known for producing incredible NYC smile makeovers that include treatments like:
Prepless veneers: Wei has made veneers an accessible treatment with prepless treatment. This minimally invasive procedure makes it possible to create a Hollywood-worthy smile without removing a large amount of tooth enamel to make room for super-thin porcelain shields.
Crowns: Dental crowns are made of porcelain and their versatility cannot be overstated. Sure, they cover teeth treated with root canal therapy, but they also cover up weak, damaged, small, discolored, or misshapen teeth that need to blend into the rest of your smile.
Teeth whitening: Professional teeth whitening will never go out of style, especially not as long as coffee, red wine, and dark sodas are around. Over time, teeth endure stains and discoloration, but powerful bleaching from your NYC cosmetic dentist will transform your smile so it is multiple shades whiter within an hour.
Smile design: Digital smile design makes it possible for a patient to get a good look at their potential new smile before they give the green light. This technology shows you your smile with crowns, veneers, Invisalign, dental implants, and any number of cosmetic dentistry procedures so you can determine what you like best and want to pursue.
Dental implants: Missing teeth are a problem no matter where they are in your mouth. It's so important to have any holes in your smile replaced with dental implants, which fill the gap left by a missing tooth root as well as its crown. These permanent, natural-looking restorations deliver both functional and aesthetic benefits.
Top Doc on Instagram
One of the best places to get to know Top Doc Dr. Wei is on Instagram @DrMikeWei. He features stunning before-and-after photos of satisfied patients who have undergone cosmetic dentistry and transformed themselves and their lives. It's addictive to look through the photos and see the transformations. Each new version of the featured smiles shows what's possible, no matter what your smile looks like right now.
Get a Smile Makeover from NYC Cosmetic Dentist
Dr. Wei is located in Midtown Manhattan, a convenient spot for anyone who lives, works, or plays in New Your City. His comprehensive menu of general and cosmetic dentistry delivers the oral health care you need, no matter what your complaints, worries, or requests.
Get the smile makeover you've always wanted and get it from a Top Dentist. Schedule a consultation with Dr. Wei in NYC or submit an online Smile Virtual request to get started.