and Get Your Smile Back
By Dr. Michael J. Wei, DDS –
Manhattan New York City Restorative Dentist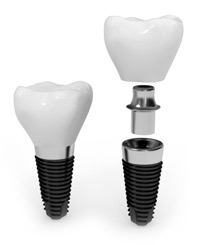 Do you need replacement teeth, but the thought of using dentures doesn't appeal to you? Consider dental implants by Dr. Wei – Cosmetic Dentist in Manhattan. Dental Implants are the permanent alternative to dentures that look like your natural teeth and do not need adhesives!
If you are looking for an alternative to dentures and bridges that provides permanent replacement of missing teeth, dental implants may be the answer. Dental implants can significantly enhance the function of your teeth and the appearance of your smile. Unlike dentures, implants offer more stability and support for your teeth, while also being virtually indistinguishable from your natural teeth. They do not move along your gums and can also improve your ability to speak and chew. Our experienced cosmetic dentists Dr. Michael Wei will discuss the most effective dental implant treatment options with you during your initial consultation to achieve life-changing results.
Benefits of Dental Implants
Although dental bridges and dentures have proven to be effective for replacement of missing teeth, there are some drawbacks to those procedures that dental implants can overcome. Dental implants improve upon traditional teeth replacement in a number of ways, including:
No maintenance required other than routine oral cleaning habits
Can improve biting, chewing, and speaking
No slippage
No need to grind down adjacent teeth to accommodate a dental bridge
Improves appearance of the teeth with results that look natural
Feels like your natural tooth
Permanent alternative to dentures
Dental Implant Procedure
Patients who have missing teeth and strong bone density in the jaws are often ideal candidates for dental implants. Dr. Wei will help determine your candidacy for this procedure at your initial consultation.
During the dental implant procedure, an oral surgeon or periodonist will place a thin, durable titanium rod under the gum in the area of the missing tooth. This rod will anchor directly to the jawbone, where it will fuse itself to the bone over the next few months. During this period, you can have a temporary crown placed over the rod until the fusion is complete. Once the fusion of the anchor to the bone has occurred, the implant is now a permanent part of your mouth, and is ready for a permanent crown. Dr.Wei will have the crown custom-made and color-matched to blend in with your surrounding teeth. Once placed, the crown will provide the finishing touch to the implant, providing an appearance that looks natural and a feeling like that of an original tooth.
How "Implant Dentistry" Works:
Manhattan Cosmetic Dentist Dr. Michael J. Wei is providing smile makeovers to New York City area patients who have missing teeth that make it embarrassing to smile and difficult to chew. "Implant Dentistry" or "Dental Implants" are a popular way to permanently fix missing teeth and give patients a complete "smile makeover" that makes them want to show off their smile again.
With dental implants, now you can enjoy the freedom of eating even the chewiest foods whenever you please without worrying about your teeth slipping! Plus, denture adhesives and care routines are completely unnecessary with dental implants. Simply care for them as if they were your natural teeth. Best of all, with proper care, dental implants can last a lifetime!
Implant dentistry is a popular and painless way to replace missing teeth.
"Dental implants are strong, permanent, and a completely natural-looking solution to replacing damaged or missing teeth," stated Dr. Michael J. Wei. "Our patients love their new smiles and think they have their own natural teeth again!"
More Information about Dental Implants
Get the latest news about smile makeovers.
Watch videos from satisfied dental implant patients of Dr. Wei.
Call us today at 212-982-4080 for a Consultation, Appointment, or for more information about our Dental Implants or Manhattan and New York City Restorative Dentistry Services
To find out why many patients love and choose Dr. Wei click on the following link:
Find out why our patients love us. See what our happy patients have to say about our quality dental services and personalized dental care. Read our reviews online at
Google, Yelp, and SmileReminder.