Eliminate Tooth Ache Pain with Root Canal Therapy
By Dr. Michael J. Wei, DDS –
Manhattan New York City Restorative Dentist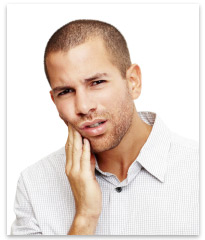 Symptoms of Tooth Infection
A tooth can become infected for a variety of different reasons including chips, breaks, decay, untreated cavities, and traumatic injury. Some common symptoms of a tooth infection include:
Intense sensitivity to hot and cold temperatures
Severe pain and/or swelling in the surrounding areas
An abscess surrounding the tooth
Substantial decay
It is also important to note that a tooth infection may not demonstrate any symptoms at all. For this reason, we recommend that you receive routine dental checkups to help identify potential issues and maintain optimal oral health.
Suffering from a toothache? Damaged or decayed teeth may need to be repaired with "root canal therapy."
Don't worry about pain, Dr. Wei can provide safe anesthesia and sedation dentistry to ease your fears and make you completely comfortable. In fact, many of our patients are so comfortable they fall asleep during the procedure!
How a "Root Canal" Works:
If you're experiencing a "tooth ache" you may have a damaged or decayed tooth. You tooth may have incurred damage to the nerve within the tooth's canal which can result in it dying and creating a risk for infection. Intense tooth pain usually occurs when swelling of the nerve occurs.
Case 7
Problems
Dark Stained Teeth
Infected Teeth
Cavities
Overlap Crowded Teeth
Uneven Smile
Worn-Out Smile
Missaligned Teeth
Solutions
8 Porcelain Crowns
Root Canal Therapy
Tooth-Colored Fillings
Dr. Wei offers relief from this pain with modern "root canal therapy" which can include the side benefit of keeping your natural tooth in place.
Root canal therapy, also called endodontic therapy, can be performed under local anesthesia  to minimize any discomfort. During your root canal procedure, Dr.Wei will clear the infection and sterilize the nerve chamber in your tooth in order to completely eradicate any harmful bacteria from the infected area. He will then seal your tooth with a dental crown customized to match the look and shape of your teeth. The dental crown also provides extra support and protection for your tooth to help prevent further damage or infection.
Mild swelling and sensitivity is normal following root canal treatment, but these symptoms will gradually subside. Any discomfort after root canal therapy can be alleviated with medication.
Sometimes, the only alternative to a root canal is extraction, but retaining your tooth will keep your proper, comfortable bite intact, and alleviate the need for a replacement tooth.
Root canal therapy sounds "scary," but Dr. Wei provides "Sedation Dentistry" to alleviate your fears and anxiety and keep you completely relaxed. In fact, with today's anesthesia, like nitrous oxide and painless injection device ( STA System) root canal therapy is so comfortable, many of our patients fall asleep during the procedure!
Call us today at

212-982-4080

for a Free Consultation, Appointment, or for more information about our Root Canal Therapy or Manhattan and New York City Restorative Dentistry Services
Find out why our patients love us. See what our happy patients have to say about our quality dental services and personalized dental care. Read our reviews online at
Google, Yelp, Citysearch, SmileReminder, Facebook, and MyNYCCosmeticDenitst.
Why Choose Dr. Wei?
A Proven Dentist – Dr. Wei is one of Manhattan's top cosmetic dentists. Dr. Wei's cosmetic dentistry includes world-class laboratory support from the best labs in the world. Dr.Wei is the recipient of numerous awards and accolades.
High Success Rate – Dr. Wei has over 17 years of experience with dental services. Plus, Dr. Wei stands behind his work with a warranty.
Delivery Excellent Results – Dr. Wei has first class technicians and world-class laboratory support. Dr. Wei works very closely with his master dental technicians to ensure you get the best results. Dr. Wei offers the very best quality dental care available.
Easy Financing Available with No Financial Surprises – All financial arrangements are done at our dental office and there will no surprises that cost you more. No hidden costs and no additions after your treatment plan is confirmed and treatment begins.
Fully Warranted – – Dr. Wei will take care of any issues from start to finish. On the rare occasion that a problem should occur, Dr. Wei will fix the problem promptly with no additional fees.
There is usually a follow-up visit for final adjustments, and to review instructions for care of your new smile. Cosmetic dentistry provides a beautiful new smile and last for years and years.
Call us for an appointment:
212-982-4080