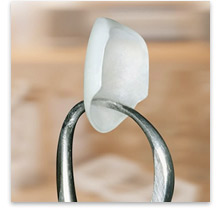 How Do Lumineers Work?
You want a new smile. You know Lumineers can give you that gorgeous smile. The question is: How do you go from wanting to getting? Some dental patients are reluctant to pursue a smile makeover because they're concerned about what the procedure will feel like and how long they'll have to spend in the dentist's chair. Lumineers are one of the best ways for reticent patients to get the straight, perfect smile they've always wanted without a fuss.
The Two-Visit Smile Transformation
Lumineers are completed in just two visits to your New York City cosmetic dentist. Here is how the work breaks down.
Visit One
After your initial consultation, your dentist will take an impression of your teeth – both upper and lower jaws. The mold that is created from this impression will be sent to a Lumineers laboratory so your super-thin veneers can be created. Sometimes photos of your teeth, smile, and face are sent to the lab, as well as any other dental records that allow the technician to meticulously customize your Lumineers.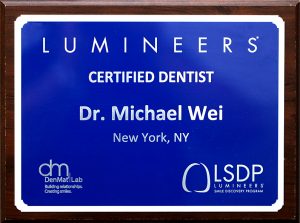 During this appointment, you and your dentist will work together carefully to determine all the characteristics of your Lumineers: size, shape, length, color, and translucency. Every one of these elements is critical to the final composition of the Lumineers, and the right choice for each category can be impacted by the condition of your current teeth, skin coloring, face shape, even your age and gender. You want white teeth, but what kind of white? There are many options.
This first visit also includes any necessary prep work to make room for your Lumineers. Because Lumineers are so paper thin, little preparation is required – meaning, there is only light sanding and cleaning to get each tooth ready. Traditional veneers require the removal of tooth structure to make room for the veneers. The thinness of Lumineers eliminates this invasive step, so you don't have to endure any drilling, shots, or temporary veneers.
Visit Two
The second visit in your Lumineers journey usually takes place about two weeks after your first visit. This gives the Lumineers lab time to create your veneers. Before the Lumineers are permanently bonded in place, your NYC dentist will try the Lumineers on your teeth to check for placement and to ensure that their appearance is as you instructed. The goal is for your Lumineers to look like natural, upgraded versions of your teeth – specific characteristics and location matter.
If any additional sanding is needed to prep the teeth, it will be done now. Then the Lumineers will be securely bonded to your natural teeth. Your dentist will check your bite, contact points, and the overall comfort and fit of your Lumineers. This smile makeover should look and feel and work just like natural teeth, so you can speak, bite, chew, and smile normally and happily.
Will Lumineers Work for You?
Lumineers have so many positive characteristics. The most important determinants for whether you are a good Lumineers candidate are your smile goals, budget, anxiety, and current oral health. Dr. Michael J. Wei will review all the smile makeover options that can work for you. If Lumineers are a good fit, you will be in the good hands of a certified Lumineers provider and his meticulous work. Your new teeth will be beautiful, flawless, and give you confidence and happiness.
Contact Dr. Wei at his Madison Avenue cosmetic dentistry office to schedule your consultation. It's time to talk Lumineers and learn more about whether this cosmetic dentistry treatment is right for you.